John Horan: 'We can't risk anybody's health'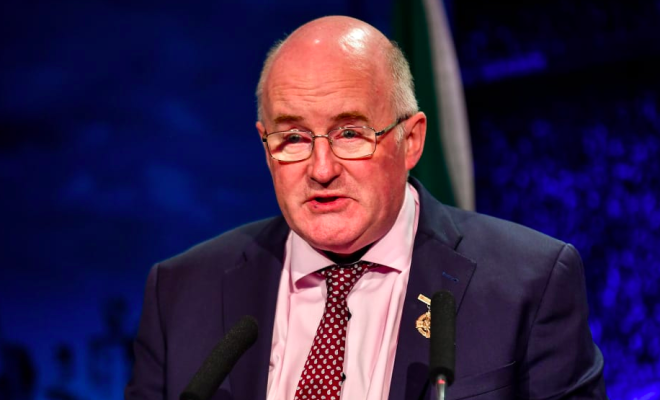 GAA President John Horan admits it is unlikely that Gaelic Football and hurling action will resume while social distancing measures remain in place.
Speaking on The Sunday Game Horan stressed that the association will continue to adopt a vigilant approach to Covid 19 in the coming weeks and months.
"If social distancing is a priority to deal with this pandemic, I don't know how we can play a contact sport," Horan remarked. "That is what Gaelic Games is. It is a contact sport.
"When you look at the level of contact in sports, scrums in rugby are probably at a different level. But I don't think to say our games are non-contact is correct, no."
Horan stressed the value and importance of ensuring the safety of GAA members. "Our concern has to be the players on the pitch and their families and work colleagues," Horan added. "They are all amateurs and it is a hobby to them. I know they take it very seriously at inter-county level and they have a very serious approach to it.
"But we can't risk anybody's health. When this is all over and we are all back to normal life, I would hate to think as an organisation that we would have made a decision that cost any family a member of their family.
"We are holding those July and October dates out, but if we can't realise those dates, then we will have to make more serious decisions and push it out more. If we push it out more it may mean we'll have to call off club or inter-county championships and maybe then we'll have to call off both.
"I think this year's Championship would have to start in 2020 and go into the first two months of 2021.
"After that, if we're back in action, we would have to move on and get on with the 2021 competitions. At this stage I would be inclined to say we will struggle to finish the league."
GAA grounds will also remain shut until July 20 with Horan stressing that clubs have contacted him about that particular decision which was taken last week.
"There was a concept in it that people could gather together in groups of four," Horan commented. "We felt that just couldn't be marshaled within clubs and that is why we continue to keep our premises closed.
"Our clubs are led by a lot of good quality volunteer people and to put the onus on the volunteers within our organisation to make the decision to police and organise training within our facilities, we just felt that would be too much.
"You would have a group of four here, and there, and all of a sudden you would have a full squad gathering. Then the next thing after a period of that training, they'd probably push on and you could have a training behind closed doors.
"I've had contacts since from one or two club chairman who have said thanks for taking it out of our hands, because they were concerned how we were going to police it in our own grounds.
"We got a lot of calls that weekend from people looking for clarification of what the GAA's position was.
"We took our time, consulted with our county chairmen and management committee before we came out with our press release on Wednesday. I think we have taken the right decision.
"I'm not going to pass that responsibility onto the club volunteer who does a great job for us to make the decisions.
"Professional sport is in a different league because they don't go back into work and can be cocooned in a family situation. We can't do that and won't. I think people's health and safety is key to it all."
By Cian O'Connell