Practical Ideas for Returning to Training
WEBINAR FULLY BOOKED UP
Louth Coaching and Games are delighted to announce that next Monday 22nd we have Colm Nally presenting the next of our webinars. This webinar will be very popular with all coaches as they plan to return to our GAA fields over the coming weeks.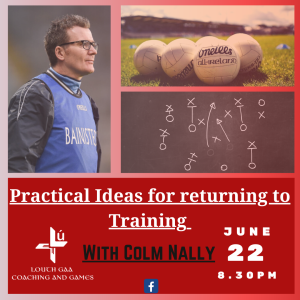 Colm will base this webinar on "Practical Ideas for Returning to Training". Colm will also answer questions on any issues people may have. Please note that this webinar will start at 8.30pm on Monday 22nd of June.
I would ask clubs to share the attached posters on their social media platforms and also the link below to register on this webinar.
Click link below to register
👇👇
https://forms.office.com/Pages/ResponsePage.aspx?id=hrxFrNSvpUKfwz6H4bd_zkR9pZLPOSZKpj4RbfIZ6vVUMlQyR1Y5Q09NVjY3WE42WjA0WFhEVDVDQS4u