U16 Championship has reached its final stage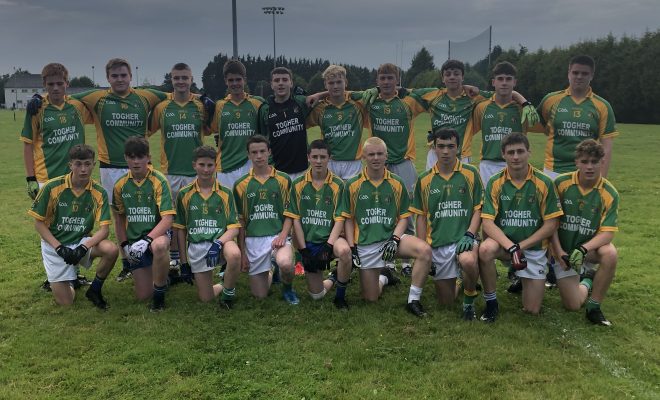 Mattock/Hunterstown and Cooley/Cuchulainn Gaels are through to the U16 A Championship finals.
In the U16 B Competition, Newtown Blues and Roche Emmets earned their place in the final.
Dates, Times and Venues TBC for the finals.
Semi Final reports follow:
Cooley/Cuchulainn Gaels and Mattock/
Hunterstown
 reach U16 A Championship Final
Mattocks Hunterstown 4-09 v St.Michaels 2-07
On a beautiful early autumn afternoon with the sun beaming down on a top class surface in Phillipstown, Mattock Rangers/Hunterstown Rovers faced St Michaels in one of the Louth under 16 A championship semi-finals. Both teams had different paths to this match, Mattock Rangers/Hunterstown Rovers had commanded Group B, convincingly winning it with maximum points, whereas St Michaels pipped Naomh Martin on head to head to advance after dropping three points on their way to second place in Group A. On paper the West Louth team where seen as favourites before throw-in. 
In the early stages of the game Mattock Rangers/Hunterstown Rovers were the better team and raced in to a 0-03 to 0-00 after five minutes, at this stage they were well on top with Aaron Levins playing well at midfield and scoring a sweet point too off his right foot. The other scores in this period came from Conor McGeoy and a Liam Flynn free. St Michaels then came in to the game more and began to assert some dominance for a period before the first half waterbreak, however they were unable to convert chances, with the normally reliable Sean Reynolds and Andrew Wogan failing to convert, when scores looked more likely. Then a long ball in from Reynolds could only be parried by Lewis Matt in the Mattock Rangers/Hunterstown Rovers goal and Adam Flynn was on hand in the full-forward position to convert the opportunity and suddenly St Michaels were back in it. Then a few minutes later another long ball in broke once again to Flynn and as he advanced in to the square was pushed in the back and referee Ultan McElroy had no hesitation in awarding a penalty. Andrew Wogan stepped up and made no mistakeThis gave the Mid Louth outfit a two point lead at the water break. 
After the restart the West Louth boys upped their game considerably and the brilliant Liam Flynn at full-forward started to assert his class in the inside forward line, he was consistently showing for the ball and when in a position to score was very efficient. He was deadly accurate from a dead ball any time he drew a free and scored an outstanding goal with a superb run in from the right following a superb ball from Shane Halpenny. Aaron Levins also converted a goal chance and to their credit Mattock Rangers/Hunterstown Rovers showed why they were favourites with that burst of scores after the water break and they led at the break 2-07 to 2-01. With Sean Reynolds adding on the only other score of the first half for St Michaels after the water break. 
The second half began with both teams cancelling one another out and scores were harder to come by, Liam Flynn converted another free for Mattock Rangers/Hunterstown Rovers one of the few scoring opportunities to come in this period. The St Michaels half-back line were performing really well at this stage and when possible the superb Evan Kearney drove forward when he could on the right with Daniel Clinton doing likewise on the left. Liam Flynn then scored another goal for Mattock Rangers/Hunterstown Rovers. A long ball in was superbly caught by Alan Reynolds in the St Michaels defence, then when he tried to work the ball out it looked like he was fouled from behind, no whistle was forthcoming, the ball broke to Flynn who made no mistake, converting his second of the game, taking his personal total at this stage to 2-05. The water break was then taken with Mattock Rangers/Hunterstown Rover leading 3-09 to 2-04.
When the match resumed St Michaels rallied and rattled off three scores Daniel Clinton from left half back scored a cracking point from one of his penetrating runs, corner back Cillian Wall turned up in the full forward line scoring a point and Sean Reynolds converted a free. Adam Flynn was then presented with a great opportunity for St Michaels when he collected a clever pass inside, he had an opportunity to shoot but chose to try and round the keeper, he seemed to stumble and this presented the opportunity for Tiernan Barron to recover with a tackle dislodging the ball, allowing the Mattock Rangers/Hunterstown Rovers defence to clear. This was the chance that St Michaels needed to convert to bring them back in to the game alas, for the Mid Louth team, this was not taken. 
In the final stages when the teams were tiring man of the match Liam Flynn was able to dispossess Emmett Carroll at the forty-five meter line, when he turned he had a clear run at goal and when he took his shot, he made no mistake. That made his personal tally 3-05 on the day. This put a sheen on the score line for the Mattock Rangers/Hunterstown Rovers and gave Flynn a day he'll remember, as with a lot of events this year, it's a pity more were not there to see his performance. Shane Halpenny and Aaron Levins formed an excellent midfield pairing for the Collon/Hunterstown boys and James Rogers was a constant threat, he drew several frees in the first half that Flynn converted. For St Michaels Sean Reynolds battled hard throughout getting forward when he could, Alan Reynolds won a lot of scrappy ball in first half around mid-field and did a solid job when he was moved in to sweep in front of the dangerous Liam Flynn. St Michaels wing half-backs were superb throughout and Evan Kearney was the pick for the mid Louth side, on the opposite flank Daniel Clinton was also excellent. In the first half Adam Flynn performed well scoring one goal and winning a penalty for the second. 
Mattock/Hunterstown: Lewis Mant, Oisin Mulryne, Tiernan Barron, Adam O'Reilly , James Russell, Cillian Taaffe, Jamie O'Callaghan, Shane Halpenny, Aaron Levins 1-01, David McGee, James Rogers 0-1, Connor McGoey 0-1, Peter Reid, Liam Flynn 3-06, Raphael Irwin 
Subs: Sean Flynn, Oran Martin, Ciaran McCartney, Micheal Reid, Robert Holmes, Aaron Smith, Graham Boland, Ronan Tallon
St.Michaels: Cillian Byrne, Cillian Wall 0-1, Jack McGeough, Sam Shearman,Evan Kearney, Jamie Durnin, Daniel Clinton 0-1, Sean Reynolds 0-3, Jake Corrigan, TJ Conlon, Callum Woods, Emmett Carroll, Andrew Wogan 1-01, Adam Flynn 1-00, Alan Reynolds.
Subs: Oisin McKenna, Padraig Reynolds, Nathan Carragher, Joe McGee
Mattock Rangers/Hunterstown Rovers now progress to take on Cooley Kickhams/Cuchulann  in the final. 
Roche Emmets and Newtown Blues through to U16 B Final
NaomhFionnbarra/Lannleire 0-09 
Roche Emmetts 4-09
NaomhFionnbarra and Roche Emmets U16s met in the John Mitchels GFC for their Division 2 Championship semi-final on a fine dry Sunday morning.
Both teams started well and exchanged pointed frees. A free flowing attack from the Togher/Dunleer men resulted in the awarding of a penalty. But a great save from Oisin Nash denied Aaron Kearney's pile driver of a spot kick. Lawrence Jones and Caoimhin Kirwan added points for the combination side, however Roche responded to cancel out the 2 points scored. A sweeping attack from the lads in blue and white resulted in Luke O Connell finding the bottom of the net. This spurred Roche on and just before half time, after good work from Eoin Maguire, Andy McKay punched the ball past an unlucky Fionn McQuillan to give Roche a two goal lead at half time.
The combination put the Roche lads under severe pressure at the start of the second period with the midfield duo of Colm Smith and Leo Kelly working hard and again Kearney was unerring in his free taking as the gap was closed to four points. Some resolute defending from the Roche lads denied the Fionbarrs/Lannleire the elusive goal they craved and when Eoin Maguire netted for his teams third goal finally there was significant daylight between the sides.
Roche ran out winners on a score line on 4:09 to 0:09.
It was a tremendous contest played in a very sporting manner by both sides. 
NaomhFionnbarra/Lannleire: Fionn Murphy, Cian Kearney, Andrew Dunne, Ronan Callaghan, Luke Dunne Boylan, Caimin Kirwan (0-1), Kyle Van Rhijn, Colm Smith, Leo Kelly, Dylan Hanratty, Aaron Kearney(0-06)Jack Regan, Ciaran Murphy, Lorcan Callaghan, Lawrence Jones
Subs: Rory Smith , Jonny Jones, Ronan McCreesh, Matthew Malone, Kyle Treadwell.
Newtown Blues 4-07 v Kilkerley/Naomh Malachi 1-08
The combination side of Kilkerley/Naomh Malachi started the game brightly with their no8 & 14 playing important roles. 
Playing with the wind in the opening half the Blues wasted too many chances. But as the game wore on the Blues midfield took more control and fed the forwards who turned the game around in the second half. It was a fabulous team performance from the Blues, but Kilkerley/Naomh Malachi made sure that it was a hotly contested match.
Newtown Blues: Rory Mulroy, Joe Harte, TimasKokotkinas, Luke Doyle, Mario Sinkevicius, Stephen Kerr Rafferty, Paul Galvin, Coinneach Farrell, Conor McGurk, Zach Levins, Cian Cleary, Iollan Farrell, Max Gardner, Finn Murphy, Danny Nugent 
Subs: Conor McCriosta, Finn Nugent, Ryan Nugent, Darius Sinkevicius 26 Adam McDonagh.
Many thanks to our competition sponsors: