Wee County Double House Draw Update
Wee County Double House Draw Update: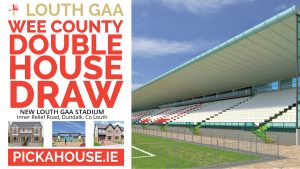 Since the 19th March, you are probably aware that the Wee County Double House Draw has been suspended due to Covid 19. This was done on public health grounds, so as to be aware of the health and wellbeing of sellers and supporters of the draw.
The date for the draw had been May 16th 2020, and as of yet a new date has still to be set. We are however hoping that when social distancing measures are relaxed that a new plan can be put in place for a resumption of the draw.
We are fully supportive of the government and HSE and we will only continue with the draw when we receive advice on when to do so.
We thank everyone who has purchased and sold tickets towards the development of a new stadium for Louth. All tickets bought up to this point will be valid when the draw relaunches.
 

If anyone has any questions contact: hello@pickahouse.ie