Would you like to welcome an MLC student this summer?
MLC are looking for Louth families to host summer students in July or academic students during the school year.
Midland Language Centre (MLC) work with international students who come to Ireland over the summer months (12-18yr olds). Many students are coming to Louth in the coming weeks and we are looking for Irish Host Families. MLC are  reaching out in the hopes some assistance could be given in letting families know about us, particularly families with teenagers.
We have a number of students going to Carlingford Adventure Centre in particular which we are struggling to find host families for.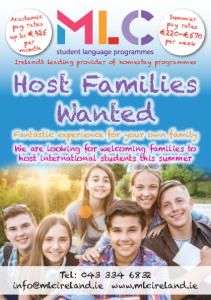 Summer payment is €220 per week/per student .
If you or anyone you know would be interested, please contact MLC today on 043 33 46832 or 087 427 9077