ZOOM BINGO – A FIRST FOR HUNTERSTOWN ROVERS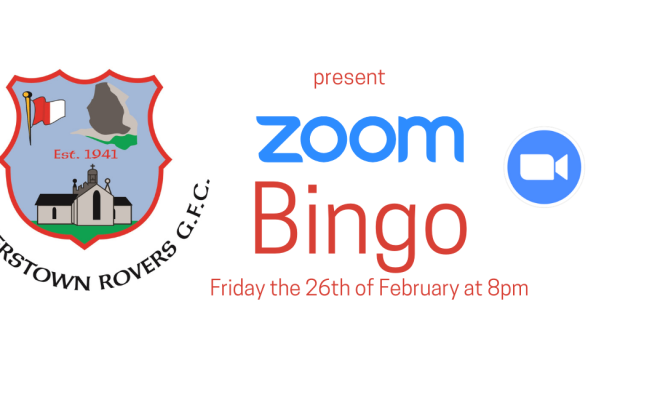 Hunterstown Rovers have just announced the launch of their new "Zoom Bingo" Due to continuing restrictions our hugely popular "Drive in Bingo" has been put on hold. However to ensure your weekly enjoyment and try your luck the club has introduced "Zoom Bingo"
Starting Friday 26th February you can now enjoy our bingo from the comfort of your own Home. Lock the Garden Gate, ignore the Knock at the Door, put the feet up and have a Cup of Tea all while in with the chance of winning fantastic prizes.
The first Zoom Bingo Event kicks off on Friday the 26th of February at 8pm and will run every Friday night at 8pm. Bingo Books will be on sale up to 5 hours before the 8pm start. When you purchase your book, it will be emailed to you and then all you have to do is print off your book. The link for Zoom will be sent out in the email with your bingo book. Prize money will be transferred to the winner using bank transfer.
The process is very straightforward
1. Purchase your books/sheets on our clubforce link https://member.clubforce.com/memberships_cart_m.asp?LL_ID=2663&CLB=1 and on our Facebook/Instagram or call/text 089-4248931
2. Your book will be emailed to you with the zoom link required to join our Zoom by Friday afternoon. You can print your book/sheet
3. Download the Zoom app onto your laptop, PC or smart device.
4. Each Friday evening, click on the zoom link in your email anytime from 7.45pm onwards.
5. If using a laptop/pc, join with computer audio. If using phone/tablet you can use the internet audio
6. Our Bingo screens will then be visible
7. To call a 'check', unmute yourself. But don't worry if you fail to check, we know who the winners are as each game has a unique code, tied to the person who purchased it.
For more information, or to purchase your bingo book check out Hunterstown Rovers GAA's Facebook page or call/text 089 424 8931. All will be Tickety Boo.