Louth show steel to bag a vital two points with National League victory over Fermanagh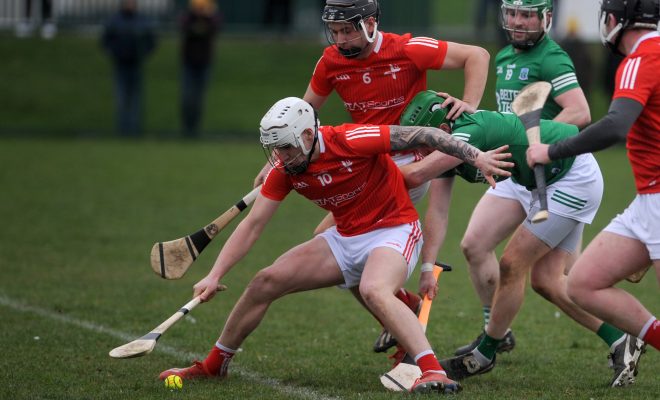 Allianz NHL Division 3A Rd 4
Louth 0-19 Fermanagh 1-15
Caoimhin Reilly
Sunday's one-point victory over Fermanagh serves as one of the most crucial, if not the most glamorous, victories of the Paul McCormack reign as Louth senior hurling team manager.
Defeat would have left the Reds bottom of the standings ahead of a final round visit by a resurgent Mayo outfit and served as an indigestibly bitter pill for the Wee men to swallow given they appeared to be cruising midway through the second half at Darver.
Though, in assessing the glass half-full, managing to eke out a victory against the swaying tide of momentum over a tense closing 10 minutes is a most impressive aspect. There was a major slice of good fortune involved as well. Seán Corrigan hit the post and then John Paul McGarry rattled the crossbar during the second period as the Louth teetered on the brink of a tremendous collapse.
On the other hand, Conor Murphy cannoned the same upright earlier in the contest and while the Erne men will rightly point to their 18 wides as the reason behind their demise, McCormack can be happy with the pressure applied by his defenders – Danny Morgan, in particular – in this regard.
"We did (benefit from fortune) but we worked hard for it," the manager said.
"We lived dangerously at times, though we left four goal chances behind us as well and we've got to be more ruthless. Against Monaghan, we left two goal chances behind in the first 10 minutes and if they go in, it's a different match.
"We feel that this is the division that we deserve to be playing in. As you can see by the results, there's nothing between any of the teams and all of our games have been very competitive – and we've been in them.
"We got over the line here and it's going to be another step up against Mayo, but the fellas are up for the challenge and that's all we can ask of them. They represent their families and their clubs with pride and they've serious pride in the jersey. That's all we want from them."
STARK CONTRAST
In stark contrast, the visitors' passionate supremo, Joe Baldwin, spoke – if rather loudly – from the heart among his huddled players at full-time. The conflicting emotions were almost tangible as both sides gathered in the match's immediate aftermath. Louth relieved and Fermanagh frustrated.
Darren Geoghegan's unerring accuracy and pure strike from placed balls was a determining factor in the Wee win, but Seán Kerrisk was once again a class apart for the Reds. He is a rocket with the sliotar on the hurl and absolutely clinical when shooting on the run. His four points were vital, as were the three posted by Mark Gahan.
The sides shared the opening eight points before St Fechin's clubman Kerrisk began to exhibit his range of skills, tapping over twice inside a minute after Gahan had restored Louth's lead.
A three-point cushion at the break – 0-8 to five – was slightly unfair on the visitors, who struck off target nine times when attacking the rather stiff breeze which gusted from the Readypenny end.
Though they were outplayed during the third-quarter as Aaron McGuinness-Smith and Peter Fortune grew in stature. Geoghegan, Ryan Walsh and Gahan all notched to push the gap out to five points with 20 minutes to go.
There was, however, a hesitancy developing in Louth's defence and goalkeeper Dan O'Neill – on his debut – was put under pressure on a couple of occasions prior to Aidan Flanagan's goal with nine minutes to play, which reduced the margin to the minimum.
McGarry subsequently chipped the 'bar and Fermanagh came forward with Daniel Teague dangerous. They levelled twice during the course of the final four minutes, plus another five which were added on, but the Reds' response was emphatic on every occasion.
A pair of two-point salvos – Geoghegan and Kerrisk, and then Liam Molloy and Stephen Stafford – held the Ulster charges at bay.
"It (game management) is much improved," added McCormac.
"When we conceded a crucial score or a few in a row in the past, sometimes we have continued to concede scores, so we've stopped that kind of chain of events, responding well and keeping the scoreboard going.
"Once we can get ball into the forwards early enough, we've got players who can do damage.
"The only thing that mattered was the scoreboard at the end and the boys were tremendous, they stuck with it. It wasn't a classic by any means but they showed grit and that bit of composure that we've learned over the last number of years.
"There was some really good play and then some basic errors but that's the game and we're delighted for the fellas because they've put in a huge amount of work.
"It's only another two points on the board, though, and we're looking ahead to Mayo now."
LOUTH: Dan O'Neill; Ben Goss-Kieran, Danny Morgan, Jamie McDonnell; Conall Shaw, Liam Molloy 0-1, Aaron McGuinness-Smith; Adam Plunkett, Peter Fortune; Sean Kerrisk 0-4, Mark Gahan 0-3, Ryan Walsh 0-1; Seaghan Conneely, Conor Murphy, Darren Geoghegan 0-9 (8f, 1 65). Subs: Stephen Stafford 0-1 for Gahan (66), Andrew Mackin for Kerrisk (70).
FERMANAGH: Mark Curry; Ciaran Duffy, Rory Porteous, Ronan McGurn; Caolan Duffy 0-1, Ciaran Breslin, Sean McKendry; Ryan Bogue 0-1 (1f), Thomas Cleary; Aidan Flanagan 1-1, Sean Corrigan 0-1, Brian Teehan; Daniel Teague 0-5 (3f, 1 65), Danann McKeogh 0-3 (3f), Shea Curran. Subs: John Paul McGarry 0-1 for Curran (29), Francis McBrien 0-1 for McGurn (HT), Dylan Bannon 0-1 for McKeogh (55), Ben Corrigan for Teehan (58).
REFEREE: James Clarke (Cavan).
Photo Credit: Ciaran Culligan Photography