Healthy Club Conference brings GAA manifesto 'Where We All Belong' to life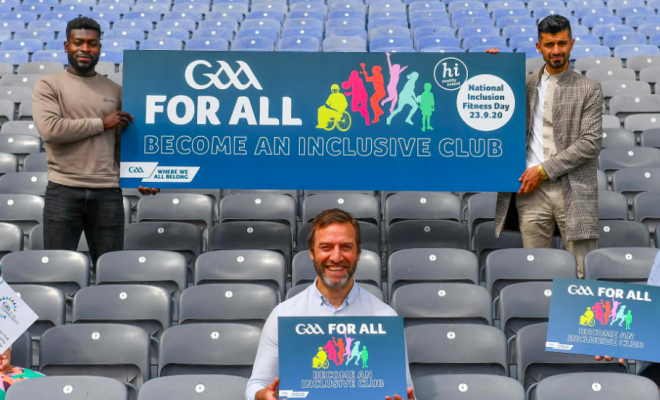 Saturday's virtual Healthy Club Conference was a huge success with over 630 individuals registering to attend the event. The Healthy Club Project, proudly supported by Irish Life, Healthy Ireland, and the Tomar Trust, has grown from a small pilot in 2013 involving just 16 clubs to nationwide movement involving 300 clubs to date (multiples in each county).
In a year like no other, 2020 saw GAA clubs embody their role as a community support system, helping people when they needed it the most. Although the games had taken a back seat, the GAA community did not. Saturday's conference celebrated and showcased the work of the Healthy Club network during 2020, starting proceedings with this inspirational video: https://youtu.be/y9XLHqv7BVI
Dr. Tony Holohan, Chief Medical Officer at the Department of Health, delivered a thought-provoking keynote address. He acknowledged the long-standing contribution of the GAA and its members to the health and wellbeing of our nation and commended the response of the Association over the 10 months in supporting many vulnerable members of our communities.
"I understand that almost 20,000 GAA volunteers supported almost 35,000 people in their communities during the first lockdown and have made themselves available again. During the Covid restrictions it is very important to keep people connected as isolation is a particular challenge for vulnerable people especially in rural Ireland. The GAA provided an invaluable service collecting and delivering shopping and medicines, sharing public health advice, supporting members online and staying in touch with the most vulnerable within our communities," he said.
Healthy eating, diversity and inclusion, social games, and youth leadership workshops featuring case studies of clubs involved in the Healthy Club Project were delivered on the day. They were supported by guest speakers, including: nutritionist, Kate McDaid; activist, motivational speaker and a sports columnist with the Irish Times, Joanne O'Riordan; wellbeing facilitator and former Wexford hurling captain Diarmuid Lyng.; and fitness consultant and referee on Ireland's Fittest Family, Paul O'Donovan.
An inspirational closing address by Joanne O'Riordan on the theme of the GAA's new manifesto 'Where We All Belong' left attendees recharged and ready to put their shoulders to the wheel once more as we face into more challenging times in 2021.
GAA President John Horan congratulated all the clubs involved in the Healthy Club Project for their ongoing efforts and tireless, innovative, work. He also acknowledged the vital funding provided by the project's partners, Irish Life, Healthy Ireland, and the Tomar Trust in helping grow the project to its current scale.
The Healthy Club journey takes 18 months to complete and requires clubs to appoint a Healthy Club officer and project team. They receive training and support along the way to assist them in completing the seven steps involved in receiving official recognition as a Healthy Club. The steps include engaging with members and communities to identity activities upon which to focus and the development of an action plan to bring these to life. Expressions of interest for clubs to participate in phase 5 will open in Q4 2021 with the new phase commencing in early 2022.
The GAA Community and Health Department would like to thank all delegates for attending and engaging with the conference and would like to extend a specific word of thanks to the Healthy Club and Healthy Club Officers that contributed to the case studies:
· Maire Mc Atamney – Michael Davitt, Swatragh GAA Club
· Mairéad Beausang – Midleton GAA Club
· Linda Donoghue – Naomh Mairtin GAA Club
· Julie Morrice – Montreal Shamrocks GAA Club
· Paul Nash – St. Colmcille's GAA Club
· Ciara Lawlor – St. Colmcille's GAA Club
· Ellen Callaghan – Clg An Tearmainn
· Kevin Spain – Cuala GAA
· Aisling Nig Ruairc – Cuala GAA
· Sally Fox – Future Leaders
· Seamus Casey – St. John's GAA
· David Murray – Wicklow GAA, H&W Committee Chair
For more information on the work of the Community & Health department and the Healthy Club Project go to: www.gaa.ie/community