Louth hurlers make it two from two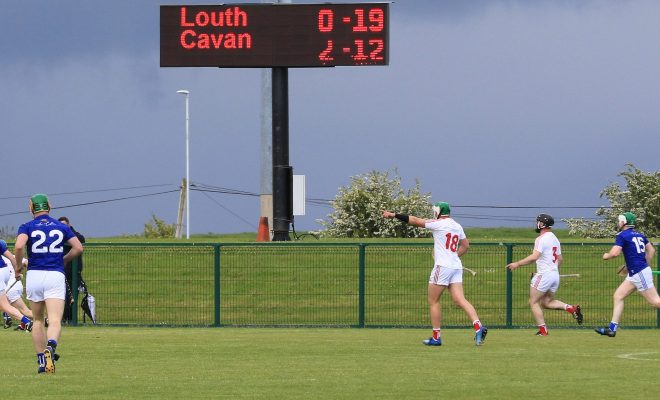 Allianz League DIV 3B Round 2 Result
Louth 0-19
Cavan 2-12
Report from Stephen Yore
Following last week's triumph in Leitrim, Paul McCormack's declaration that the 'result is everything' still stood to his charges as his Louth side made it two wins from two in Division 3B of the Allianz Hurling League thanks to a hard earned but albeit deserved one point win over Cavan in Darver on Sunday afternoon.
Young Darren Geoghegan, on the back of a nine point showing in Leitrim a week before, proved his ever-growing worth to Louth's cause once again, striking 0-13 (11f) in what was another spectacular showing by the Naomh Moninne clubman.
Louth started brightly. Brian Fitzgerald's opening free was quickly cancelled out by a Seaghan Conneely point before Geoghegan struck the first of his frees to give Louth their first lead of the afternoon. Fitzgerald fired over another close-range free before Louth struck three successive points, through Paddy Lynch and Geoghegan (2), giving the home side a three point cushion with 15 minutes of the contest clocked.
But just as the water break loomed, Cavan struck. Corner forward Caoimhin Carney hammered home the first of his two rebounded goals – bringing Louth's brief spell of scoring dominance to an abrupt end. Another Geoghegan free on 17 minutes gave Louth back their lead of one as the first half water break was called – 1-02  to 0-06.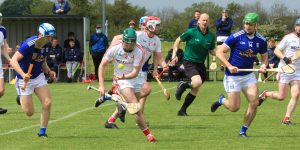 Feidhelm Joyce made somewhat of a captain's contribution upon the games resumption, driving over for his first before Fitzgerald brought Cavan's deficit back to the minimum with his third free.
Scores were furthermore exchanged between Geoghegan (f) and Cavan wingback Anthony Sheridan, both striking for their respective causes, the latter found himself with plenty of roaming room to settle and take his score. Paul Matthews added his name to the score sheet with his first point giving Louth a lead of three – 0-09 to 1-03 with the half time whistle approaching. However, Cavan would strike their second goal in very timely fashion, just on the cusp of the break – Carney, in the right place at the right time again, tapped home unmarked at the back post, giving Cavan a one point lead heading into stoppage time.
Geoghegan fired over another free and the game was level at the break 0-10 to 2-04.
The contest remained tight throughout, and the game's tone was same and similar to the Lory Meagher Cup meeting between the two sides at Kingspan Breffni Park last October.
Fitzgerald dragged his first free of the second half wide; Geoghegan on the other hand, successfully converted his opening placed ball. He found his range yet again to convert another free after just six minutes of the second half and Louth led 0-11 to 2-04.
It became more evident that discipline would prove pivotal to the games outcome from here on in. Two more frees from Fitzgearld, coincided with a Geoghegan long-ranger in between, would see the game become a shootout between the pair for a period.
Louth Midfielder James Costelloe, who was another to impress, called a temporary halt to that particular proceeding, driving over to give the second half its first score from open play despite being eleven minutes old. Philip Brady followed suit and responded for Cavan, firing over from distance.
After that, Cavan would strike what proved to be three very costly wides in succession, either side of the second half water break. Had they been converted, they would have had a two point cushion, but it was 'him again' – Darren Geoghegan –  who was all too obliging to instead extend Louth's lead, firing over two tremendous frees, to leave it  0-16 – 2-7 with eighteen electrifying minutes of the second half played.
Substitute Sean Keating fired over on his left, from the left and this reduced the gap back to two. That score was greeted with a roar from the Cavan bench as they looked to fight back, but arguably the score of the game followed, as Louth Substitute Sean Kerrisk brilliantly controlled an excellent ball sprayed across to his vicinity by Costelloe, to tap over from 30 meters.
Cavan however, were not finished their fight yet ans would dramatically get the games next three scores. Their immediate response sprung to life thanks to a Cillian Sheanon point and two Fitzgerald strikes, as the sides found themselves locked level for the fifth time – 2-11 – 0-17 with sixty-three minutes on the clock.
Then, with the game in the melting pot, another free was blown by Wexford Whistler Georoid McGrath. It would have been well within, one would say, Brian Fitzgeralds range. But remarkably, the Cuala man dragged it to the left from a fairly central position and he failed to give Cavan what would have been not only their first lead of the second half, but a priceless one too.
Chance then came calling and up the other end Louth went. Geoghegan, swimming by the ridges of a ruckage, got the ball in hand and a split second of freedom. That's unsurprisingly all he needed & he drilled over from close range. All of a sudden the lead was Louth's once more. However, this time around, it lasted less than a minute. Cavan came knocking on the door once more & Fitzgerald pointed from play with two minutes of additional time played. It was level pegging again, now for the sixth time; 2-12 – 0-18.
But it ultimately came down to Geoghegan once more, who despite being engrossed with pressure, made no mistake in converting his eleventh free of the day in the third minute of injury time, that gave Louth a lead of one. It was a lead that the wee county managed to hold on too, giving them a big win & two precious points as they made it two wins from two outings in Division 3B of the Allianz Hurling League.
LOUTH:
Donal Connolly; Matthew Fee; Ronan Byrne; Andrew Smyth; Conor Quigley; Jamie McDonnell; Ryan Walsh; Niall Keenan; James Cotelloe (0-1); Darren Geoghegan (0-13,11f); Seaghan Conneely (0-1); Paddy Lynch (0-1); Paul Matthews (0-1); David Kettle; Fedihlim Joyce (0-1)
Subs: Andrew Mackin for D Kettle (10Mins) Peter Fortune for J McDonnell (45Mins) Sean Kerrisk(0-1) for P Lynch (45mins); Thomas McCreesh for J Costelloe (57mins).
CAVAN:
Darren Sheridan; Neason Neary; Dominic Crudden; Philip Brady(0-1); Anthony Sheridan(0-1); Enda Shavley; Philip McCabe; Matthew Hynes; Fiachra Hughes; Bart Nannery; Diarmad Carney; Kevin Conneely; Cillian Sheanon(0-1); Brian Fitzgerald(0-8,7f); Caoimhin Carney(2-0).
Subs: Sean Keating for K Conneely (15mins); Freddie Williams for P McCabe (55mins); Darragh Madden for A Sheridan (76mins).
Photo Credit-Kieran Carr (Louth GAA)
Referee: Gearoid McGrath (Wexford)