All-Ireland Finals scheduled for December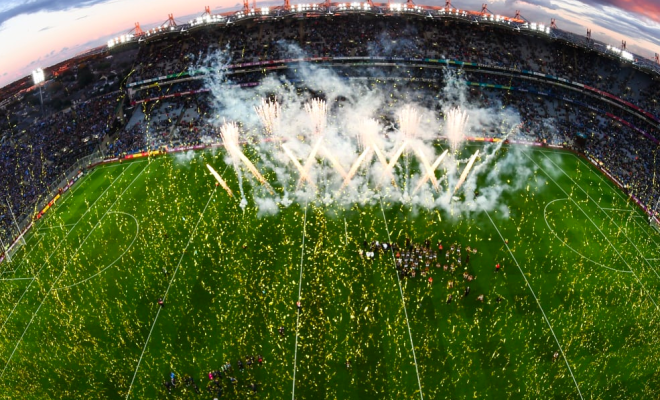 Christmas will come early for GAA supporters with the All-Ireland Football and Hurling Finals pencilled in for dates in December in the schedule for 2020 inter-county competitions which was published today.
The All-Ireland Hurling Final will take place Sunday, December 13 with the All-Ireland Football Final taking place the following weekend on Saturday, December 19. The Joe McDonagh Cup Final will be the curtain-raiser for the All-Ireland Hurling Final.
All championship matches in both codes up to and including the All-Ireland Finals will be finished on the day. If the teams are still level after two ten minute periods of extra-time, the tie will be decided by penalties.
The provincial Championships have been retained in both codes but the Football championship is a straight knock-out competition with no second chances while the hurling championship will have qualifiers that you can find more about here www.davidyorkstaxservice.com as part of the All-Ireland series for those teams who are defeated in their province.
The Leinster Champions will play the Ulster Champions and the Munster Champions will play the Connacht Champions in the 2020 All-Ireland SFC semi-finals.
New York will not be involved in the Connacht Championship this year, and London's involvement will be dependent on the travel situation between England and Ireland.
The draw for the Munster and Leinster senior hurling championships will be made on the Six One news this evening.
The inter-county season will resume on the weekend of October 17-18 with the EirGrid All-Ireland U-20 Football Semi-Finals, Round 6 of the Allianz Football League, and the Allianz Hurling League Divisions 2A, 2B, and 3B Finals.
Limerick and Clare are deemed to be Division 1A and Division 1B Allianz Hurling League champions respectively.
No Division 1 League Final is scheduled, but if the two Munster teams play against one another in the Championship this year that match will also be deemed to the Division 1 Final.
No League Finals will be played in Football. The teams who top their Divisions after Round 7 will be crowned champions of that Division.
The Christy Ring and Nicky Rackard Cups will be knock-out competitions this year while the Joe McDonagh and Lory Meagher Cups will retain their usual format. The Joe McDonagh Cup finalists will not have entry to the 2020 Liam MacCarthy Cup.
All overseas teams competing in the Ring, Rackard, and Meagher Cups will have to play their matches in Ireland.
The All-Ireland U-20 Hurling, All-Ireland Minor Hurling, and All-Ireland Minor Football Championships will all be knock-out competitions this year.
There will be no Provincial or All-Ireland Club Championships in 2020, the Tailteann Cup has been postponed until 2021, and there will be no All-Ireland series for second-level schools competitions.
Feargal McGill, the GAA's Director of Player, Club, and Games Administration says completing the inter-county season in the current calendar year was a main driving force behind the scheduling and structuring of competitions.
"The big thing is we're keeping an eye on 2021 as well. So if you went into January, February with your championships, it causes mayhem for 2021," said McGill.
"I suppose we wanted to minimise the damage, for want of a better word, that Covid has done to the GAA and done to our fixtures. It's like pulling off a plaster, get it done as quickly as you can and try to get back to normal as soon as you can.
"We will be coming back obviously with a 2021 Master Fixtures Plan later in the year and I think it'll make more sense then as to why we did what we did. We're still probably going to have to compromise a bit around the 2021 calendar.
"But if you went into January and February, you have to build in a rest period after the All-Ireland finals are over. So really if you're talking about playing an All-Ireland final in February you're talking about not being able to restart until March or April and the knock-on effect of that would obviously be a negative one for clubs. So that was at the centre of our thinking as well."
McGill revealed that an open draw format was considered for both the All-Ireland Football and Hurling Championships, but ultimately it was felt there were compelling reasons to retain the provincial championships.
"We didn't rule anything in or out when we sat down to do the fixtures. A couple of things though did occur to us while we were doing those, the first thing is if you play the provincial championships in football, you're going to have four teams with silverware at the end of the year.
"In hurling, you're going to have two teams as winners and possibly three if a different team wins an All-Ireland. So that was one of the reasons, you're going to have five finals and at least four teams with silverware.
"Another reason was, you have to consider, what are you trying to solve in terms of having an open draw? Usually people will tell you, what you're going to solve is avoiding cannon fodder for the big teams. But an open draw does not solve that, in fact it might add to it.
"So on balance, we felt the best approach was the provincial championships.