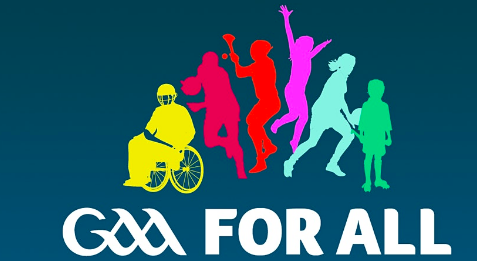 GAA  FOR  ALL
The GAA  as an organisation prides themselves on being open and welcoming to individuals from all diversities across Ireland. Being truly inclusive is living our GAA motto " Where we all belong ".
This work takes many forms:
It ranges from ensuring that our policies and practices support the cultural integration and social inclusion of people from diverse ethnic populations, to making sure that all Gaelic games are adapted for people with different abilities.
At the AGM of Louth Health and Wellbeing Committee a decision was taken to encourage all clubs to open their facilities to children within their communities with extra needs, so that all family members can belong to the same club. We  also plan to promote Social GAA and Gaelic for Mothers and Others.
To progress with the plan to welcome children with extra needs into our clubs we need to partner with groups and personal with experience in this area.We have formed that partnership with Cara, National Sport Organisation, providing a National and Collaborative and partnership platform to increase  sport and physical activity opportunities to people across Ireland and with Louth Local Sports Partnership Inclusion office.
Cara will provide two online training workshops.
The introductory one, duration 90 mins, is designed to build awareness and knowledge around people with disabilities participating in sport and physical activity. It is an interactive workshop that covers perceptions, communications and etiquette, understanding disability and inclusion and readiness.
The second, Autism in Sport Workshop, will provide attendees with an understanding of Autism, focussing on the delivery of sport. It will help participants to recognise and understand key areas of difference as well as looking at practical strategies which will help to include people with Autism in sport sessions. Those Workshops will be delivered between October and December, 2020. Click link for more information

Role of the Sports Inclusion Disability Officer
(Tríona Faapito)
The Sports Inclusion Disability Officer (SIDO) aim is to increase the participation of people with disabilities in sport, fitness and physical activity throughout Louth. This is achieved through working in partnership with statutory agencies, sports clubs, community groups, facility providers, schools, disability service providers and people with disabilities. This aim is achieved by:
Establishing new and sustainable clubs
Linking with local disability organisations around the assessment of needs and provision of opportunities for people with disabilities
Promoting the participation of people with disabilities in sport and physical activity
Communicating with all relevant disability sports organisations to enhance participation at local, regional and national level
To encourage sports clubs and volunteers to support the participation of people with disabilities in sport and physical activity through the facilitation of training and education thus creating awareness of Adapted Physical Activity. E.g. Disability Inclusion Training (DIT), Autism in Sport, Inclusive Fitness etc..
Creating effective working partnerships with sport bodies to encourage greater opportunities for people with disabilities to participate in physical activity
To provide information and promote all opportunities for people with disabilities to participate in sustainable sport and physical activity at local, regional and national level