Football Championship 2020 Finals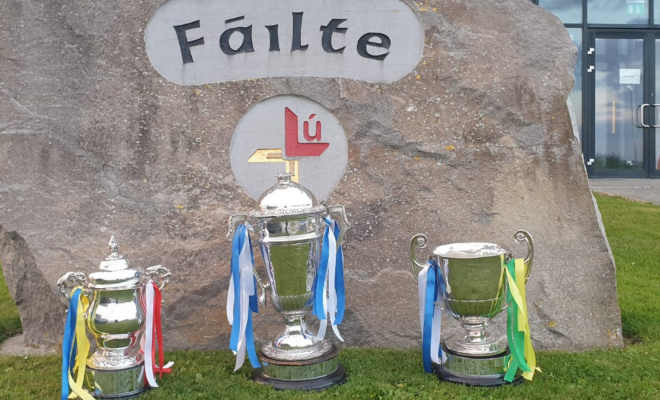 Louth GAAs Football Championships have reached the highpoint of the year with all adult football Championship finals being played this weekend. The last ever u18 Minor Football Championship will also be played this coming Sunday.
Unfortunately due to current government guidelines, capacities at grounds are severely restricted. All games are strictly ALL TICKET. Tickets will NOT be available from any other source other than the clubs who will be playing over the weekend. Anyone who wishes to gain access MUST have a ticket, and unfortunately no exception can be made for children.
All games however are available on our streaming service LúTV and LMFM Radio. All adult games are €10 to stream and our minor final will be €5. Games can be accessed by logging into www.247.tv/gaa/louth. A weekend package is available for €30, which gives access to all Louth GAA games over the weekend.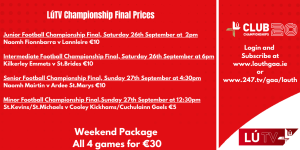 To whet the appetite for the weekends action a preview night will be held in the Conference room in Darver and this will be available to watch on the Louth GAA Facebook Page and Official Louth GAA YouTube Channel. The night will be hosted by Louth and Prouds Dan Bannon, and he will have guests on discussing and previewing the weekends action.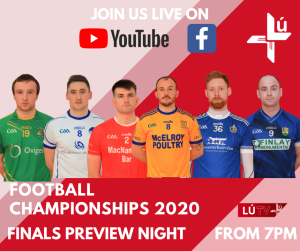 We would like to wish all the clubs the very best of luck in the weekends fixtures and all three trophies will have a new home to go to come Sunday. If games do end in a draw, it will go to a replay. No extra time or penalties.
The LMFM Minor A Championship Final will take place at 12:30pm and will take place between Cuchulainn Gaels/Cooley Kickhams v St.Kevins/St.Michaels.
Thank you again to all our sponsors over the last year and for your continued support of Louth GAA.