Louth hang on to seal vital Division Two win against Limerick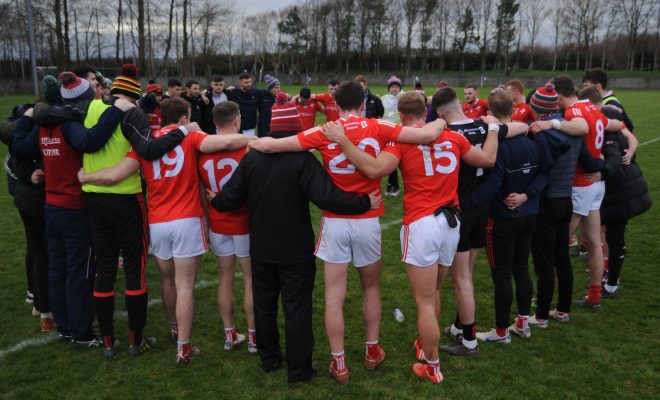 Louth 1-15 Limerick 1-13
Louth held off a late scare from winless Limerick to secure their first two points of their 2023 Allianz Division 2 campaign at Páirc Mhúire in Ardee.
Coasting by six points, the hosts had to show fortitude themselves to hang in the much tighter than expected finish.
Talisman Sam Mulroy, with three, and the excellent Dáire McConnon had put Louth into that winning position with six unanswered scores after half time along with centre back Niall Sharkey.
However, a 54th minute free from James Naughton finally got Limerick up and running, and from the resultant kick out, Hugh Bourke intercepted and found Peter Nash who laid it off to fellow substitute Brian Donovan to set up the grandstand finish.
Nervy Louth were in fact only ahead by the minimum minutes later, when Limerick midfielder Cathal Downes found the range after yet another Naughton free.
Mickey Harte's side looked to be on course to suffer another final quarter loss, only to find seismic impact off the bench from Tommy Durnin.
The big midfielder was everywhere in the frantic finale, spurning two goal chances that kept the contest alive before landing the insurance score alongside replacement Conal McCaul.
Limerick will rue the slow start to the second half but also the lacklustre end to the first half where Mulroy levelled the gap at the interval against the run of play with two frees to make it 1-6 to 0-9 after cornerback Dan Corcoran bagged his first goal for his county.
Scorers — Louth: S Mulroy 0-6 (5f), D Corcoran 1-0, D McConnon 0-3; C McCaul, N Sharkey, T Durnin, C Downey, T Jackson and P Lynch 0-1 each. Limerick: B Donovan 1-0, J Naughton 0-3 (3f); H Bourke and C McSweeney 0-2 each; C Downes, A Enright, G Brown, C Sheehan, P Nash and I Corbett 0-1 each.
Louth: P McStravick 7; D Corcoran 7, P Lynch 6, D McKenny 6; L Grey 6, N Sharkey 7, C McKeever 6; C Early 6, C Murphy 6; A Williams 5, C Downey 5, T Jackson 6; C Grimes 6, S Mulroy 9, D McConnon 8. Subs: C Lennon 7 for Williams (ht), T Durnin 8 for Early (61), C McCaul 7 for Downey (70), B Duffy 6 for McKeever (74).
Limerick: Limerick: D O'Sullivan 6; S O'Dea 6, B Fanning 6, D Connolly 6; I Corbett 7, C Fahy 6, T McCarthy 6; C McSweeney 8, C Downes 9; A Enright 8, G Brown 6, C Sheehan 6; P Maher 6; J Naughton 6, H Bourke 7. Subs: P Nash 7 for Maher (ht), B Donovan 8 for Enright (44), K Ryan 7 for Brown (55), M Donovan 7 for Connolly (60), J Liston 6 for Downes (71).
Ref: M McNally (Monaghan).
Photo Credit: Ciaran Culligan
Video Credit: Shane Cunningham (Cunningham Video)
Listen to Mickey Hartes interview with LMFMs Colm Corrigan after game below