Peter Fitzpatrick insists Louth's €14.8 million stadium funding is 'ring-fenced, rock solid and guaranteed' despite government's decision to scrap IIP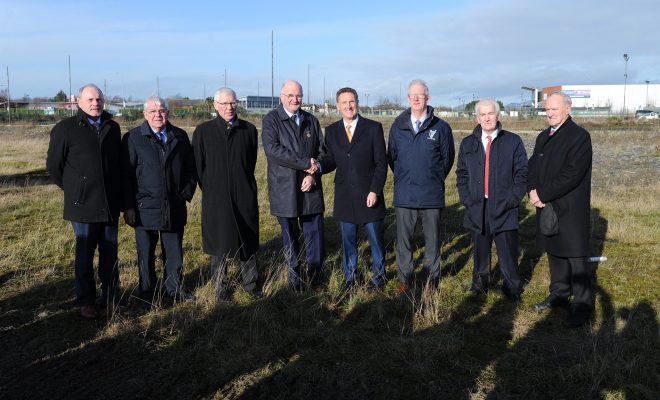 Louth GAA chairman Peter Fitzpatrick has insisted that the county's €14.8 million Immigrant Investor Programme funding is "set in stone" and laid to rest fears that the government's decision to scrap the programme will impact on the stadium development in Dundalk.
Fitzpatrick headed a grounds committee delegation that signed off on an agreement with 37 Chinese investors last November, via the Department of Justice, which will see each contribute €400,000 in exchange for a period of residency in Ireland.
The IIP initiative, which has been running in this country for over a decade and brought in more than €1.2 billion in revenue for hundreds of different projects, is to be wound up but Louth will receive the remaining monies in three instalments across March, June and September having already banked the first sum in January.
"This money is set in stone and will flow in steadily between now and September," said Fitzpatrick. "It's guaranteed to come. This stadium is going to happen and the IIP money is lined up for it.
"I've spoken to the Minister for Justice and Taoiseach, and we're safe because we got it signed last November. We're guaranteed our money. It took us two years to put this together, it wasn't as simple as people thought, but there was a fantastic application and we're very lucky.
"Personally, I feel it was a mistake by the government to pull the IIP considering it has brought in over a billion euro in the last 10 years. Where's that money going to come from now to fill the gap? I thought it was a fantastic system."
The county chairman – and resident TD – has also defended the ethics of the investment considering China's human rights record remains the subject of international perusal.
"There is an evaluation committee, made up of public and private figures and departments, whose job it is to scrutinise these propositions and it's overseen by the Department of Justice, so everything is above board," Fitzpatrick added.
"Every time we get money into our bank account from the programme, we have two years to spend it and every shilling has to be audited and details provided to the Department of Justice.
"Since 2012, lots of different organisations have benefitted from the IIP, from Trinity College to Creative Spark in Dundalk, they all got money through the scheme. The Peter McVerry Trust got around €4 million and another place in Dublin got €40 million.
"For Louth, the money is ring-fenced, rock solid and guaranteed, and we have a meeting with Tom Ryan, Croke Park's CEO, in the next week because this is a joint-venture with Croke Park and they are going to make up the funding shortfall. They have told us that they won't leave us wanting and we may get €5 million from them.
"We wanted to get the tender process out last week but we're working with the finance and infrastructure committee in Croke Park and all should be ready to go out in the next week."
The chairman remains committed to delivering the stadium by September 2024 and has come to an agreement with Dublin for the reigning Leinster champions to play Louth in the opening match at the venue.