Stabannon Parnells are Louth Junior Football Champions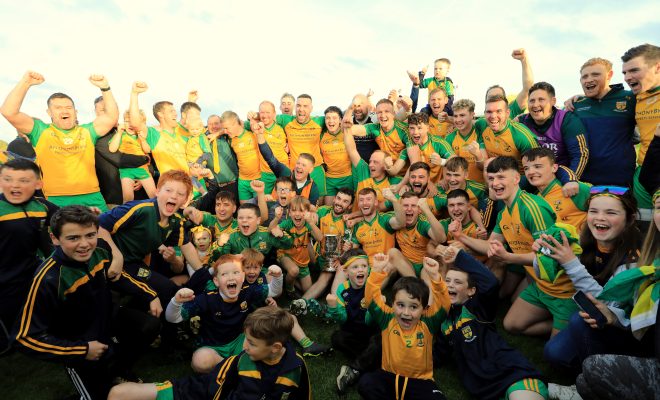 Glyde Rangers 0-8 Stabannon Parnells 2-10
Twenty-three years since Nicholas Butterly skippered the mid-Louth men to the last of their six senior championship titles, David Cluskey and Thomas Campbell joined the club's list of successful captains when raising aloft the Christy Bellew Cup.
Fittingly, Stabannon have hauled themselves up from the junior abyss – taking the first steps on their climb back up the grades – with inspiration from the sons of many of their heroes from the 1990s, when four senior victories were celebrated.
Bobby Butterly – a scorer of three times' as many goals as points during their triumphant campaign – was the match-winner with two goals, while his younger brother, Harry (cutout), fired over six points, ensuring Pat Butterly, a propelling force for Parnells over many memorable years and now the club secretary, was boasting his sons' 2-6 haul at full-time.
Meanwhile, Gerry Reynolds' fella, the up-and-coming powerhouse of Louth GAA, Seán Reynolds, took over in the second half, serving as a dominant territory-maker and displaying the type of form that both defies his tender years and became a recurrent trend during Stabannon's run to the showpiece.
There were Lynchs, a Bell, Giggins', a McGee and more – all part of the generation that grew up in the shadow of their fathers' footballing feats. But this triumph ensures they can stand with chests pumped out among the cohort of championship winners of the parish.
Stabannon are rising again, not quite as they did Sapphire-like 30 years ago or so, when winning Joe Ward just two seasons after earning promotion from the intermediate grade, but they are a developing force and sat among their subs were five either current or recently graduated Louth underage players, set to inject more quality in the seasons to come.
On the other hand, this is Glyde's fourth junior final loss in six seasons – and the second after a replay. Tommy Burns was on the pulse after the match, pointing out that Rangers won their one and only senior title in Castlebellingham in 1934, though since returning to the junior grade, they have lost three deciders at the Grove, in 2017, 2019 (replay) and this year, having drawn first time round with Parnells at O'Connells' home as well.
They will be glad to see the back of the venue for a while as fate was ultimately against them yet again. In effect, they took to the pitch without their best defender (Conor McCullagh, through injury), most complete player (Niall Sharkey, illness) and leading marksman (Trevor O'Brien, injury). How, therefore, could they have feasibly fared any better?
That they took a lead to half-time, 0-6 to 1-2, having conceded a goal inside a minute when Cluskey robbed Glyde of possession inside the 13-metre line before teeing up Butterly to confidently dispatch to the net, was to their credit.
And by extending the cushion to two with the first score of the second half – a Conor Sheridan point – they threatened to upset the odds stacked against them. However, that was to be the last time they were in any sort of control, adding just one more point before referee Stephen Murphy called for the ball.
Losing Oisín Lynch to a black card with 11 minutes to go was bad enough, only for Sheridan and Alan Kirk – their most experienced men – to see red in more ways than one. At the finish, the Tallanstown team had 13 players and succumbed by an eight-point margin that didn't do their performance justice given the circumstances.
But over the two matches, Stabannon were justifiable champions, despite their first half display falling well shy of the levels they set in the drawn encounter. With Colm Giggins favoured to his brother, Aonghus, and playing in a more withdrawn role, Parnells didn't have the focal point up front that had served them so well seven days earlier.
Thus, their 1-2 score by the break was paltry given two Harry Butterly frees was all they could manage in the 29 minutes plus injury-time that followed his elder sibling's major. And Glyde were playing into the road-end target with far more conviction, Lynch, Tadhg Kellett and outstanding Dion Conlon all landing kicks from range to stoke belief among their vast following.
Though, ultimately, they let Stabannon off the hook in kicking five wides, while Kellett, a goalscorer a week earlier, put a shot for the same net outside the post with Anthony Briscoe sharp in racing from his line.
Parnells, more determined when the match resumed, gradually took over and with Barry McCoy splitting the posts from an incredible angle five minutes into the second half – for their first minor from play – the winners found their groove and hit four points on the trot before Cluskey's neat footwork created the championship-sealing register.
He stepped two tacklers and raced towards the D. Many players would have tapped over the top, but he scanned and found Bobby Butterly with a precise handpass – and he tested every sinude in the netting hooked on the crossbar with a high kick past David Brennan.
Glyde now needed three-pointers but they didn't threaten in even the vaguest way, with veteran Briscoe, whose distribution was very impressive once more, having the minimum to deal with.
Stabannon's year, they will be the only intermediate championship team in Division 3A next season. Thus, promotion from the league will be very high on their agenda, and their returning swagger will signal a warning to those in the grade above. They're on the way back and this is the material evidence.
GLYDE RANGERS: David Brennan; Gerard Bourton, Céin Sheridan, Fiachra Sheridan; Tadhg Kellett 0-1, Conor Sheridan 0-1, Jack McKeever; Dion Conlon 0-1, Ciaráin Sheridan 0-1 (1 45); Barry Brennan, Brian Duffy, Ultan Larney; Killian Scott, Alan Kirk 0-2 (2f), Oisín Lynch 0-2 (1f). Subs: Barry Sharkey for Scott (48), Lee Finnegan for Larney (48), Aaron Devlin for B Brennan (58), Pauric Kearney for Lynch (60).
STABANNON PARNELLS: Anthony Briscoe; Ryan Halpenny, Daniel Clinton, Seán Halpenny; Barry Lynch, Shane McCoy, Johnny McGee; Derek Crilly, Seán Reynolds; Niall Cluskey, Bobby Butterly 2-0, David Cluskey; Barry McCoy 0-1, Colm Giggins 0-1, Harry Butterly 0-6 (4f, 1 45). Subs: Aonghus Giggins 0-1 for Crilly (44), Robbie Callaghan 0-1 (1m) for C Giggins (53), Fintan Martin for D Cluskey (60), Thomas Campbell for Lynch (60).
REFEREE: Stephen Murphy (Naomh Máirtín).
Photo Credit: Louth GAA
tkcarr12@gmail.com