U18 League Championship Round 1 Results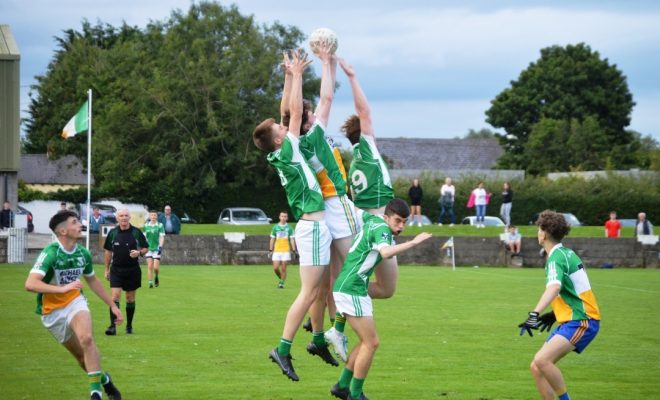 U18 Division 1 – Group A
Cooley Kickhams/ Cuchulain Gaels beat St Marys Ardee 6-15 to 2-04. This game was played at Cooley. At half time it was 2-08 to 0-2 for the home side.
Cooley Kickhams/ Cuchulainn Gaels panel Niall Brady, Daire Mc Daid, Conor Mc Aviney, Cathal Malone, MJ Hanlon, Paul Brennan, Ian Arnold 0-1, Cormac Malone, Enda O Neill 0-5, Cian Connor 0-3, Pierce Hulme, Gerard Hanlon 0-2, Dylan Quinn 2-0, Calum O Hanlon 3-03, Thomas Mc Carragher 0-1 Subs Shane Quigley, Aaron Carolan, Darragh Brady, John Digney 1-0, Eddie Kirwan, Aaron Sheelan, Sean Mc Carragher, Christopher Mc Quaid, Ronan Mc Bride, Thomas Fearon, Caolan Haugh.
U18 Division 1 – Group B
Mattock Rangers 1-06 v Roche 2-07
In an evenly matched contest, Roche ran out 2-07 v 1-06 winners in the end in the 1st round of the u18 competition.
Both sides battled hard in the first half, with Roche leading narrowly 1-05 to 1-04 at half time.
In the 2nd half a 2nd goal from Roche helped earn them the win with Neil McCarron having a great game in goals, helped by an outstanding display from Jack McKay at half back.
Up front Fintan Watters had a great game, linking up a lot of the play.
Roche ran out 2-07 v 1-06 winners in the end.
Roche: Neil McCarron, Killian Carroll, Liam O'Donnell, Killian McKay, Jack McKay, James McDonnell, Callum Grant, Peter Lynch, Aidan Grant, Daire Reilly 0-2, Mark Byrne 1-04, Mikey McCourt 0-2, Matthew Green, Fintan Watters, Danny Treacy.
Subs: Andrew McKay 1-0, Gavin McArdle.
St.Josephs/St.Mocthas 5-13 v Geraldines 3-10
The combination side started this game strongly with four points in the first 10 mins with Kayden Walters and Conall McCaul on target. The Geraldines got to grips with the game with a pointed free and had an excellent goal chance that was cleared off the line by Liam O'Flaherty, within a minute a well worked move by the Geraldines setup their full forward Donal Leavy to hit the net and level the match at 0-4 to 1-1.
On 18mins Killian McDonnell soloed through the Geraldines defence passing to Connor Marmion who was taken down for a penalty that was converted for the Joes/Mochtas side by Ben Collier. Joes/Mochtas hit three successive points from Ben Collier, Kayden Walters and Conall McCaul. The Geraldines responded with points from J Callan and half back N. Gartlan and had further goal chances which they could not convert.
The combination side finished off the half with Kayden Walters expertly finishing to the Geraldines net and adding a point from a 13m free to leave the half time score at Joes/Mochtas 2-8, Gerladines 1-3.
The second half started with a penalty in the first minute for the Geraldines that Mark Leavy crashed against the cross bar but made no mistake with the rebound to narrow the margin to five points. The Joes/Mochtas then took control of the game with a scoring blitz of 3-3 in an eight minute spell. Conall McCaul scoring 2-2, the first goal an excellent move between Nathan Todd and Killian McDonnell, followed by a Liam O'Flaherty point and a goal from Kayden Walters had them ahead by 5-11 to 2-3.
The Geraldines dominated the remainder of the match led by their midfield pairing of Cafferty and Corrigan, Cafferty scoring three excellent points and Donal Leavy soloing through the home defence to hit the net for a second time. Rory Carroll in the Joes/Mochtas goal had to be alert to keep out further attempts on goals with Ryan Cash leading the defensive line. The sides exchanged points in the final minutes with Ben Collier converting a free and Michael Staunton on target from over 50m with a superb point. It was the Joes/Mocthas who held on to win on a scoreline of 5-13 to 3-10.
St.Josephs/St.Mocthas: Rory Carroll, Phillip Marron, Conor Casey, Killian Hand, Nathan Todd, Ryan Cash, Rian Colgan, Ben Collier 1-02, Michael Staunton 0-1, Stephen Rooney, Conall McCaul 2-05, Liam O'Flaherty 0-2, Kayden Walters 2-03, Killian McDonnell, Conor Marmion.
Subs: JP Byrne, Evan McEnteggart, Killian McNally
Geraldines: Conor Rafferty, Adam Hoban, Niall Henry, Sean Connor, Eoin Cassidy, Jai Akhal, Neil Gartlan 0-02, Brian Cafferty 0-03, Beanón Corrigan 0-03, Barra Duffy, Jamie Callan 0-01, Frank McGrory, Adam Gartlan, Donal Leavy 2-00, Mark Leavy 1-01, Neil McQuillan, Gavin Lynch, Jack Mulvihill, James Reilly, Niall Brennan.