Louth storm to victory over Meath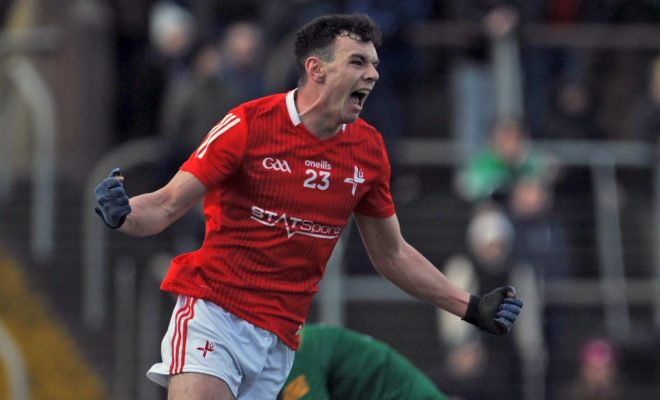 Allianz National Football League, Division 2, Round 4
LOUTH 1-15 MEATH 1-12
By Paul Keane at Pairc Tailteann, Navan
A storming finale from Louth in Navan secured a memorable comeback win, boosting their Division 2 survival hopes and perhaps as importantly earning the local bragging rights.
Meath looked all set to take the spoils in the north-eastern derby when they led by five points with just 14 minutes remaining despite playing with 14 men for all of the second-half following Harry O'Higgins' dismissal.
But a stunning final quarter turnaround saw Louth outscore the Royals by 1-6 to 0-1 in the closing minutes with Ciaran Downey and substitute Craig Lennon providing the inspirational scores.
Downey began the revival with three points while Lennon's snatch and grab breakaway goal in the 62nd minute, following a misplaced pass in the Meath defence, put the visitors into a lead they wouldn't relinquish.
Lennon finished with 1-1 and was among a number of strong Louth performers as they secured back to back wins in the division following opening round losses to Clare and Derry.
Next up for Louth is a Round 5 clash with Kildare while Meath will head to Limerick in search of a badly needed win following back to back defeats.
Colm O'Rourke's Royals were chastened by last weekend's heavy defeat to Derry and while they looked to have put themselves in a winning position this time, despite losing defender O'Higgins to a 24th minute red card, they couldn't hold on.
Both sides made pre-match alterations to their published lineups with Shane McEntee coming in for Cathal Hickey. McEntee didn't feature in Derry so came into the team along with fit-again forwards Matthew Costello and Shane Walsh as well as midfielder Jack Flynn.
Louth, curiously, named James Califf as their goalkeeper at the 11th hour, replacing Peter McStravick, while Liam Jackson started ahead of him in defence.
Califf, who played the majority of his career at midfield, came out of retirement ahead of the 2022 season to play in goals for Louth though this was his first start of the league this term.
Declan Byrne, who similarly came out of retirement for the 2023 season having previously been an outfield player for Louth, started the Round 1 tie against Clare while McStravick, who played outfield for Louth in the O'Byrne Cup, was in goals against Derry and Limerick.
Walsh had the biggest impact of the returning players initially with a direct role in three of Meath's first four points as they opened up an early 0-4 to 0-0 lead.
Walsh scored the game's opening point and also created scores for Ronan Jones and Jordan Morris as the hosts capitalised on long, direct deliveries to the inside forward line.
Louth didn't score until the 17th minute and by the 21st minute had three different substitutes introduced; Lennon, Conal McCaul and Tommy Durnin though two of those were injury enforced as Tom Jackson and Leonard Grey appeared to suffer knocks.
Still, the tweaking paid off as Louth came back into the contest and outscored Meath by 0-6 to 0-1 from the 17th minute until half-time.
Meath's defence suddenly looked porous and vulnerable and aside from the half dozen points that Louth scored, there were three separate goal chances throughout the half with Tom Jackson, Daire McConnon and Lennon all thwarted.
Louth were further boosted by the 24th minute dismissal of Meath's O'Higgins for what was deemed to be a dangerously high challenge on Louth's number nine Ciaran Murphy.
Murphy wore number nine but started in attack while Conor Grimes, wearing number 15 and best known as a powerful attacking force, lined out at midfield next to Conor Early.
With Meath reduced to 14, Meath goalkeeper Harry Hogan was under increased pressure to get his kick-outs away as Louth pushed up with a hard press and the Wee County capitalised with scores from McConnon and free-taker Mulroy.
The game opened up into a thrilling spectacle in the third quarter with two Louth points, from Grimes and Lennon, coming directly off wasted goal chances for Meath at the other end.
When Meath finally did get their goal, through Keogan in the 47th minute, it similarly came off a Louth score attempt from McConnon that dropped short at the other end, the Royals counter attacking and setting their skipper away who finished well despite pressure from three Louth defenders.
Flynn then boomed over a long range score for Meath and suddenly they had put some daylight between themselves and Louth with a 1-10 to 0-9 lead.
Meath got the gap out to five points with 15 minutes or so to go but Downey's excellent three-in-a-row of Louth points and Lennon's breakaway goal set up a thrilling finale which Louth deservedly edged.
Louth scorers: Craig Lennon 1-1, Sam Mulroy 0-3 (0-2f), Ciaran Downey 0-3, Daire McConnon 0-3, Liam Jackson 0-1, Conal McCaul 0-1, Conor Grimes 0-1, Tommy Durnin 0-1, Donal McKenny 0-1.
Meath scorers: Donal Keogan 1-0, Shane Walsh 0-3 (0-1f), Jordan Morris 0-3, Jack Flynn 0-2, Mathew Costello 0-2 (0-1f), Ronan Jones 0-1, Jason Scully 0-1.
LOUTH: James Califf; Niall Sharkey, Peter Lynch, Donal McKenny; Leonard Grey, Conall McKeever, Liam Jackson; Conor Early, Conor Grimes; Ciaran Downey, Anthony Williams, Tom Jackson; Daire McConnon, Sam Mulroy, Ciaran Murphy. Subs: Craig Lennon for Tom Jackson 12, Conal McCaul for Williams 14, Tommy Durnin for Grey 21, Bevan Duffy for Liam Jackson 56, Jay Hughes for McConnon 69.
MEATH: Harry Hogan; Adam O'Neill, Michael Flood, Harry O'Higgins; Jack O'Connor, Donal Keogan, Shane McEntee; Ronan Jones, Jack Flynn; Cillian O'Sullivan, Jason Scully, Darragh Campion; Jordan Morris, Mathew Costello, Shane Walsh.
Subs: James O'Hare for McEntee h/t, Thomas O'Reilly for O'Sullivan 53, Eoin Harkin for Campion 55, Daithi McGowan for Scully 63, Diarmuid Moriarty for Jones 69.
Referee: Joe McQuillan (Cavan).
Photo Credit: Ciaran Culligan Photography