LETHAL LOUTH FIND ALL THE ANSWERS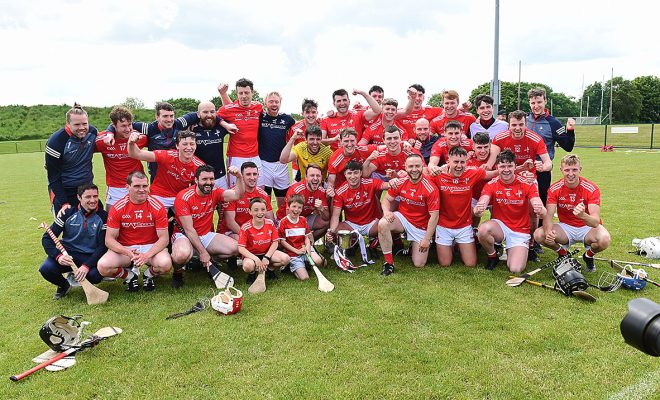 Louth 3-16
Fermanagh 0-15
By Dan Bannon
In the coming years there may be a table quiz question that only a select few Louth people may know the answer to. In the first of his term, newly appointed GAA president Larry McCarthy handed his first cup over to Louth captain Feidhelm Joyce.
Uachtarán was on hand in Darver to oversee Louth climb out of the lowest division of the hurling sphere to gain promotion to 3A of the National Hurling league for 2022. Once again Louth's glory was at Fermanagh's expense. The two counties are creating ongoing rivalry, one with no nastiness and one where Louth come out on the right side of the result.
The repeat of last year's Lory Meagher final ended in similar fashion thanks to a stunning final quarter from Paul McCormack's men. The water break effect is becoming more prevalent in deciding Gaelic games as time goes on, an effect maybe McCarthy will no doubt look into, but on the day, Louth took full advantage and rattled off 1-5 to no reply in the finish after the second half uisce briste.
Momentum up until that point was really anyone's, Louth had chances to extend their lead but lacked composure. The home full back line was playing out of their skin, however excellent Fermanagh corner forward Seán Corrigan narrowed the gap to two just before the pause.
After that, the quizmasters know the answer. Louth came out with clear heads and stunned Fermanagh. Man of the match Paul Mathews swivelled to fire over and add to his sparkling two goals in either half. While James Costelloe sealed the game with Louth's third in this match winning period.
Mathews got into the groove from the get-go, turning his marker early on to fire over the bar before really opening up his legs to fire home his first goal in the 9th minute. He was duly aided by his Fechin's team mate Seán Kerrisk.
Newcomer Kerrisk clipped over two points in a sparkling display, the timing of the points were crucial and came when Louth really needed them. His opener came after Fermanagh responded to the early onslaught to lead 6 to 1-2 with three Corrigan free's.
With Shea Curran plucking primary possession, Louth's discipline, particularly in the middle sector, saw them cough up seven pointed free's, in a tight game that looked to be their downfall only for some stout defending from their full back line.
Matthew Fee really came to the fore as Fermanagh threw the sink at Louth at the death, other cornerback, Andrew Smyth had a terrific battle with Corrigan from the start, while full back Ronan Byrne came to grips with deep lying John Duffy to turn the game in his side favour.
Byrne capped the display with a point in the finish but his sweeping role after half time was crucial as Louth went in ahead by the minimum 1-9 to 11 thanks to Darren Geoghegan again stepping up to the mark with four placed sliotars.
Seven minutes into the restart, Mathews was quickest to react to a Geoghegan free that struck the upright. Yet despite that injection, the hosts as they tend to do, did not push on and Fermanagh simply couldn't be shaken.
So two points between the sides in the crunch game, 2-11 to 0-15 and Louth squandering chances  referee Caymon Flynn sent both sets of players to their respective dugouts.
After that, Ryan Walsh who had just come off the bench, really shone, everything he touched was a positive, be it open play or pitching in with two points himself, and with the full back line holding strong, Louth's fear reduced and confidence surged.
That balance made the final few minutes a pleasure to watch as the hosts embraced the final whistle. Progress made, promotion secured. Quizmasters at the ready.
Louth: Donall Connolly; Matthew Fee, Ronan Byrne 0-1, Andrew Smyth; Peter Fortune, Conor Quigley, Paddy Lynch 0-1; Darren O'Hanrahan, James Costelloe 1-0; Seanie Crosbie, Darren Geoghegan 0-7 (3f, 265'), Feidhelm Joyce; Paul Mathews 2-2, Seaghan Conneely, Sean Kerrisk 0-2. Subs: Subs: Niall Keenan for O'Hanrahan (19), Jamie McDonnell for Quigley (19), David Kettle for Crosbie (h-t), Ryan Walsh 0-2 for Conneely (52), Thomas McCreesh 0-1 for Joyce (52).
Fermanagh: Mark Curry; Dylan Bannon, Rory Porteous, Andrew Breslin; Mark Slevin, Luca McCusker, Aidan Flanagan; Francis McBrien 0-1, Thomas Cleary; Caolan Duffy 0-1, Ryan Bogue, Conor McShea 0-1; Seán Corrigan 0-7 (5f), John Duffy 0-4 (4f), Jimmy Tormey 0-1. Subs: Tom Keenan for Cleary (45), RuairI Bannon 6 for Tormey (58), Darragh McPhillips 6 for Corrigan (68), Barry McPhillips 6 for McShea (72).
Referee: Caymon Flynn (Westmeath)
Photo Credit: Arthur Kinahan