Impressive Louth defeat Fermanagh in Lory Meagher Cup Final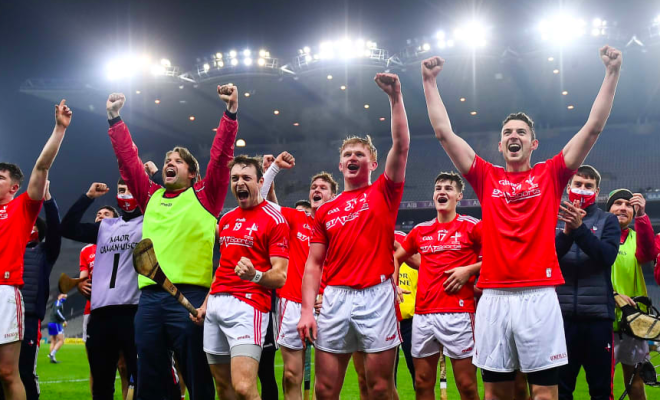 Lory Meagher Cup Final
LOUTH 2-19 FERMANAGH 2-8
By John Harrington at Croke Park
A storming second-half performance by Louth saw them power to an 11-point victory over Fermanagh in this afternoon's Lory Meagher Cup Final at Croke Park.
Andrew Mackin's cracking 57th minute goal was the game-breaker as it pushed the Wee County seven points clear and broke Fermanagh's hitherto stubborn resolve.
Overall, Louth had an edge in both physicality and hurling craft that eventually told on the scoreboard.
Ronan Byrne was a rock at full-back, Darren Geoghegan's free-taking was deadly accurate, and in Mackin they had a two-goal hero who gave them a potent focal point in attack.
They also had the luxury of a strong bench, and it was no coincidence that Louth pulled away from Fermanagh when they started introducing fresh legs.
It was the Wee County who opened the scoring with a Geoghegan free after two minutes but it was Fermanagh who looked the livelier team in the opening quarter.
County fooballers Daniel Teague and Ciarán Corrigan were late additions to the starting 15 and both caught the eye early on with Teague solid at centre-back and Corrigan buzzing around the Fermanagh attack to good effect.
Team captain John Duffy brought the Ernesiders level with a long range free and the game continued in that tit for tat fashion with the sides level at 0-3 apiece by the 15th minutes.
Then came the first major breakthrough of the game when Fermanagh's Dylan Bannon raced through the Louth defence to fizz off a well struck shot on the run.
Louth goalkeeper Donal Connolly saved well but he could only bat it into the path of the onrushing Conor McShea who was fouled in the act of trying to strike the rebound to the net.
Referee Gearoid McGrath awarded Fermanagh a penalty, and up stepped Duffy to drive it emphatically to the top left corner of the net.
Fermanagh's lead lasted just three minutes before Andrew Mackin levelled the game again when he goaled for Louth.
You could only admire Mackin's opportunism as he won the ball on the right and drove towards goal before booting it to the net, but more than one Fermanagh defender will surely reflect they could have done more to stop him on his way.
The goal gave Louth a real surge of momentum, and they dominated the remainder of the half as points from Darren Geoghegan (free), Paul Matthews, and David Kettle had them 1-6 to 1-3 ahead at the break.
Fermanagh also lost star forward Seán Corrigan to a hand injury late in that first half, so it really looked like the momentum of the match was going against them.
The message in their dressing-room was surely that they needed a fast start to the second-half and that's exactly what they got just 20 seconds after the match resumed.
Ciarán Corrigan picked up possession on the right side and made a bee-line straight for the Louth goals. His batted shot looked like it might be skidding wide, but substitute Barry McPhillips did well to slide in at the back post and bundle it to the net.
A minute later Conor McShea fired over a point for Fermanagh, and now it was the Ernesiders in front again.
Louth's reaction to his gut-punch was admirable. They clipped four points in the the space of six minutes with the pick of the bunch a real skyscraper of an effort from Ryan Walsh with his very first touch.
Points from Ciarán Corrigan and John Duffy kept Fermanagh in touch momentarily, but some poor wides in this period of the match prevented them from really building up a head of steam.
Then came Mackin's second goal, and it was a beauty.
Feidhleim Joyce won a ball on the edge of the square and then showed great sleight of hand to pop a perfectly timed hand-pass to the on-rushing Mackin who finished emphatically from close range.
There was no way back now for Fermanagh, and from there Louth kept the scoreboard ticking over to finish the match with a fine flourish.
Scorers for Louth: Darren Geoghegan 0-9 (9f), Andrew Mackin 2-1, David Kettle 0-2, Paul Matthews 0-2, Conor Deane 0-1, Niall Keenan 0-1, Ryan Walsh 0-1, Pádraig Fallon 0-1, Feidhleim Joyce 0-1.
Scorers for Fermanagh: John Duffy 1-3 (1-0 pen, 0-3f), Barry McPhilips 1-0, Tom Keenan 0-1, Caolan Duffy 0-1, Seán Corrigan 0-1 (f), Ciarán Corrigan 0-1, Conor McShea 0-1.
LOUTH: Donal Connolly; Matthew Fee, Ronan Byrne, Andrew McCrave; Conor Deane, Jamie McDonnell, Liam Molloy; Niall Keenan, James Costello; Darren Geoghegan, Feidhleim Joyce, Seanie Crosbie; Paul Matthews, Andrew Mackin, David Kettle. Subs: Darren O'Hanrahan for James Costello (39), Ryan Walsh for David Kettle (43), Gavin Kerrigan for Paul Matthews (54), Padraig Fallon for Feidhleim Joyce (58), Shane Callan for Niall Keenan (68)
FERMANAGH: Mark Curry; Ciarán Duffy, Andrew Breslin, Aidan Flanagan; Rory Porteous, Mark Slevin, Francis McBrien; Conor McShea, Dylan Bannon; Shea Curran, Luca McCusker, John Duffy; Tom Keenan, Sean Corrigan, Caolan Duffy. Subs: Barry McPhilips for Seán Corrigan (25), John Paul McGarry for Dylan Bannon (ht), Luca McCusker for Mark Slevin (45), Shea Curran for Aidan Flanagan (54), Adam McShea for Tom Keenan (69)
Ref: Gearoid McGrath (Wexford)