Mattock Rangers respected and relevant again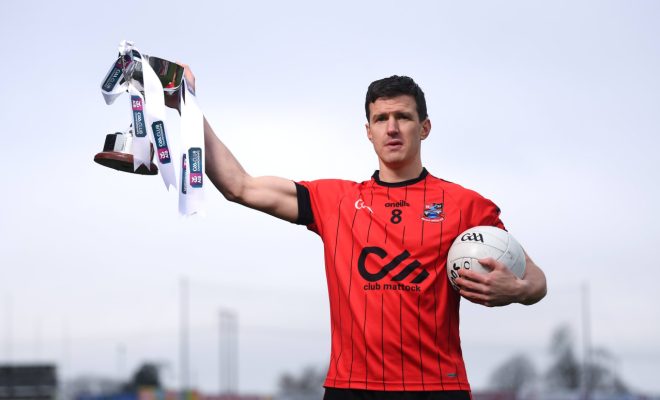 By Cian O'Connell
Between 2002 and 2010 Mattock Rangers gleaned four Louth Senior Football Championships. It was a thrilling and successful stint, Gaelic Football had been passed through the generations.
Hope existed, Mattock Rangers were respected and relevant. That is all most clubs want, but during the next decade demanding days arrived.
Relegation to the Intermediate ranks eventually happened, but 2019 brought county and provincial silverware and a sense that Mattock Rangers were on the rise again.
Manager Niall Callan played during Mattock's glory years so is well placed to assess what has been stirring in the proud Louth outfit.
"At the time we dropped we actually won the Division One League that year," Callan recalls about 2015. "We just couldn't get a run in the Championship at all. It ended up that we kept getting beaten in the Championship. Eventually we ended up in a relegation battle and were beaten.
"With hindsight it probably is the best thing that could have happened because we had a good crop of young players coming up at that stage. We were beaten in the Intermediate Final the following year with quite a young and inexperienced group. The balance was probably not right.
"A lot of those younger players have stepped up to the mark, they have matured and it is coming right now. Hopefully there is a good future ahead for a lot of them."
How Callan has blended the emerging youngsters with the experience and class of the Reid brothers is worthy of the utmost respect.
Following a couple of coaching gigs elsewhere Callan wondered long and hard about taking over his home club.
"In 2015 I stepped away and went over to St Fechin's in Termonfeckin," Callan says. "I was there for a couple of years in a coaching capacity and a management capacity in the second year.
"Then I went to Roche Emmets in the north of Louth in a coaching and management role. So going back to your own club and having a bit of success is very nice.
"It is definitely more personal and I played with quite a few of them like Adrian and David Reid, Daniel Bannon, Daire English, I would have battled along with them on the pitch. To take over, I had to think long and hard when the position became available whether it was such a good idea to go for it.
"You are now trying to guide them along, a lot of them lads don't need much guidance because they are 100 per cent committed, they are intelligent footballers.
"When I became involved they showed great respect towards me. Definitely I showed great respect towards them. There was no issues, they made the job handy for me."
Callan has certainly been a key figure in Mattock's return to prominence and reflects on the impact made by some trainers during his own playing career.
The Reids' father, Damien, will be involved in nearly every Mattock Rangers discussion, while Paddy Carr and Paddy Clarke were others who made Callan think deeply about sport.
"You learn from every coach – definitely," Callan remarks. "Paddy was a great man, you had the likes of Damien being a clubman. He was always involved.
"Personally he was an inspiration to me and a bit of a hero growing up. He took me through the ranks, he was with the Louth Under 21s when I was involved with them, he was such a gentleman.
"He was involved when we won a couple of senior titles, Paddy Clarke's record speaks for itself too. This year we have been blessed with Sean Kelly.
"Him coming onboard in the coaching ticket helped the club. He is just an exceptional coach, he was definitely one of the best I've worked alongside if not the best."
Magheracloone is only a half hour spin from Mattock Rangers GAA Grounds. On Saturday in Crossmaglen the prize at stake is an AIB All Ireland Intermediate Club Final appearance. During the years has there been much interaction between Mattock and Magheracloone?
"When we were on top of our game in senior and when they were probably on top of their game in senior also back in the noughties we would have played two or three challenge matches along the route," Callan states.
"They are a quality side. I know they dropped to Intermediate last year or the year before, it is only a couple of years ago that they were contesting Senior Championships.
"Playing against them they always were very strong, a good footballing team so there is going to be nothing easy come Saturday."
These games are memorable occasions to be involved in according to Callan, who is thoroughly enjoying Mattock Rangers' latest adventire.
"I have found that playing in Leinster campaigns and the campaign this year you seem to have a little bit more freedom," Callan comments.
"With Louth being such a small county everyone knows everyone. You are always well aware about who you are playing and who the dangermen are.
"When you go outside of the county you tend not to worry as much about the opposition because you haven't that much knowledge on them. You don't know them as well so you play with a bit more freedom.
"It is a bit surreal I suppose, but the commitment levels and training has been exceptional for the length of time the lads have had to constantly attend and commit.
"They are an excellent group, the excitement is brilliant around the village. The players are really looking forward to it."
Report: GAA.ie
https://www.gaa.ie/football/news/mattock-rangers-respected-and-relevant-again/