Mochtas Claim the Cardinal O'Donnell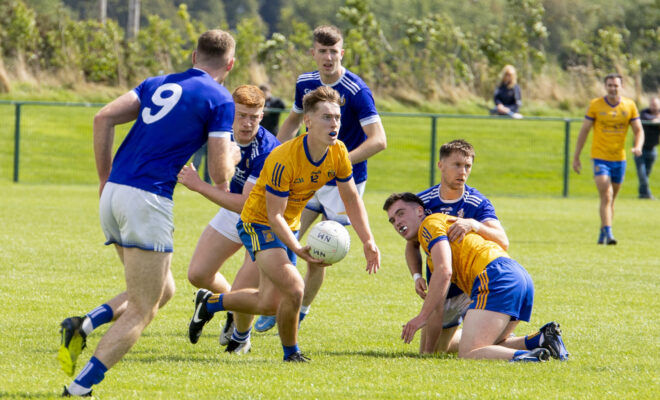 God loves a trier. St. Mochta's have been knocking on the door and finally they cracked it open with a one-point win over Naomh Mairtin to become Division 1 champions via a gutsy display in Darver on Sunday afternoon.
This had all the makings of another close but no cigar encounter. Mairtin's were dominant, forceful and played like champions without completing the task at hand.
With all that hurt in recent seasons banked, the Louth Villagers dug deep and used that to drive them to the success they deeply craved, and you could say deserved.
How could you begrudge them? Sheelan Cup final losses, County final losses, this is a team that felt the pressure of winning now while they are making hay and now they can bask in the comfort of coming away with something tangible.
The history books will show they are top of the pile, the best side in the county, Cardinal O'Donnell champions.
Could it be the peak of their rise or only the beginning of their journey? That is to be decided. Possibly in the coming months but for now, you could see the joy and also the relief on players' faces after the game, that at least they have come away with something significant.
The final played right into their hands. Hanging in there, scraping as underdogs, riding their luck and with the greater want when the game boiled down to it, they got over the line.
For Declan McCoy and his charges, there will be some serious head scratching done in the coming days. How a side so on top didn't do enough is a grey matter, where they either self-destructed or weren't able to be ruthless enough to see off a relentless opponent.
The law of averages will say it was coming. The Jocks were on a 20 game winning streak and already claimed the Sheelan Cup this season, all while beating the Mochta's twice along the way.
John Moylan knew what he had to do. Keep it as close as possible and sneak it in the finish and that is exactly what they did. Mairtin's were wasteful and then panicked as a result. St Mochta's sensed this and grew in confidence and deserved to come out the other side as champions.
The 2019 winners, with the aid of a wind, completely dominated Liam Kindlon's kick outs in the first half. With Dara McDonnell and Wayne Campbell imperious and a punishing press too, Naomh Mairtin would win eight kick outs in a row.
Mochta's to their credit stuck out their bad patch and thanks to some heroic last gasp defending and an anxiousness in the Monasterboice shooting and passing, they only trailed by five. All the while Jack Murphy and Seán Healy looked comfortable stroking the ball over the bar, nearly too comfortable.
Mairtin's had all the play, but in front of a well-maned Mochta's backline. Conor Whelan's radar was off, the corner man was stood out as his side kicked eight first half wides. Whelan also missed a clear goal chance. That was where the game would be decided.
Trailing 0-7 to 0-2, Mochta's were struggling to get out of their half at times. Craig Lennon was forced to come out deep and provide some relief up the field and he did so. Ben Goss Kierans strode up the field and pointed along with Declan Byrne.
That two-point tally was enough to give the Louth Village men hope for the second half and despite Thomas Sullivan and Wayne Campbell wiping out that brace before half time, Mochta's were in much the better place psychologically even if they were 0-9 to 0-4 down.
Mairtin's left the chink of light and closed it slightly after the break with a Sam Mulroy free, but Wayne Campbell's head injury assessment after the throw would prove costly. Without Campbell, Mochta's began their match winning streak.
Craig Lennon showed his class to bookend an eight points in a row sequence. His presence and pace on the counter had the Mairtins at their wits end and when Mochta's got their lead through the excellent Jamie Farrell, the dynamics of the game shifted and you had a feeling it was going to be the triers day and it was.
A very conscientious penalty call on Seán Healy was waved away and McDonnell's brilliance made it a one point game, but Mulroy failed to convert a last gasp place kick and that was that. St. Mochta's would be etched into the history books, for forever more.
ST MOCHTA'S: Liam Kindlon; Andrew English, Oisín Callan, Andrew Lennon; Conor Garland, Liam Lawlor, Ben Goss-Kieran (0-1); Seán Flynn, Declan Byrne (0-4, 0-1 free, 0-1 45'); Gerry Garland, Jamie Farrell (0-3), Danny Kindlon; Cormac Smyth, Craig Lennon (0-3), Darren McMahon (0-1). Subs: Philly Englishby for Smyth (49), David Lennon for D Kindlon (49).
NAOMH MÁIRTÍN: Craig Lynch; Tadhg O'Brien, Conor Healy (0-1), Thomas Sullivan (0-1); Evan Whelan, Seán Healy (0-1), Connor Smyth; Wayne Campbell (0-1 mark), Dara McDonnell (0-1); Jack Murphy (0-1), Stephen Campbell, Tom Gray (0-1); Conor Whelan (0-1), Val Leddy, Sam Mulroy (0-3, 0-2 frees). Subs: Shane Morgan for Sullivan (49), Darragh Dorian for C Whelan (49), Ben Callanan for Smyth (49).