St Patricks GAA Club-Irish Motor Neurone Disease Association (IMNDA) Charity Fundraiser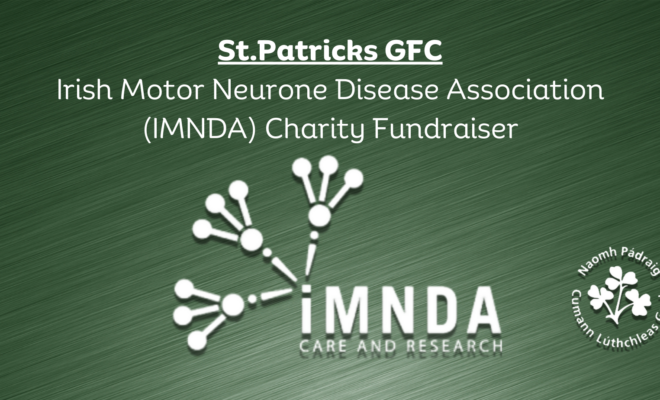 Irish Motor Neurone Disease Association (IMNDA) Charity Fundraiser
Louth GAA are delighted to support the St.Patricks Club, on August 26th for this Irish Motor Neurone Disease Association (IMNDA) charity fundraiser.
Earlier this year, ex-chairman, and lifelong member of St. Patrick's GFC, Padraic O'Connor, who was also chairman of Louth GAA for 5 years from 2009 to 2014 was diagnosed with Motor Neurone Disease.
The services provided by the IMNDA are immediate and free of charge. The association has already been of huge assistance to Padraic and his family, but with 85% of their income coming from fundraising and donations, the IMNDA needs your help.
The Event
The main event will be a sponsored walk from St. Patrick's Community Centre, see route map which will be started by local Boxing Sensation Amy Broadhurst
There are two options, a flat 7km walk from St Patricks Centre to Bellurgan and back, or a road/trail 11km walk from St Patricks, up around the Jenkinstown Loop and back,
If you like to take part in this very worthy cause:
 The entry fee for the sponsored walk/hike will be €20.00.
 You do not have to complete the entire walk. Do what you can and raise whatever you can. Every little help!
 You don't have to do the walk at all, simply turn up on the morning of the 26th in the Pats at 9.30am, to help, or donate on the day.
 We are calling on all the football clubs from Louth to take part, you will all be very welcome.
The morning of the Event – Cake Sale/ Coffee Morning
On the morning of the sponsored walk on August 26th, we will be hosting a cake sale/ coffee morning in St. Patrick's GFC centre. Tea and biscuits for all, including those taking part in the walk…
Raffle
Additionally, there will be a raffle with some fantastic prizes contributed by local businesses. You will be able to support the cause and buy tickets in local shops and pubs before August 26th!
So, what do I need to remember?
• Sponsored walk taking place on August 26th in aid of the Irish Motor Neurone Association (IMNDA) and in support of Padraic O'Connor.
• Get your sponsorship cards and follow the links to the "I donate page"!
• Cake sale/ Coffee morning in St. Patricks GFC centre on the morning of August 26th.
• We will have raffle tickets also available on the day.
• You do not have to complete the entire walk – do only what you can and raise what you can!
• Everyone is welcome from the parish, the peninsula, the county, and the country!
• Let's spread awareness of MND and try to make a difference.
• 100% of proceeds will go to the IRISH MOTOR NEURONE DISEASE ASSOCIATION.
• Please like and share this.