St Fechin's hold off Kilkerley/Malachi's in Louth U15 B Championship final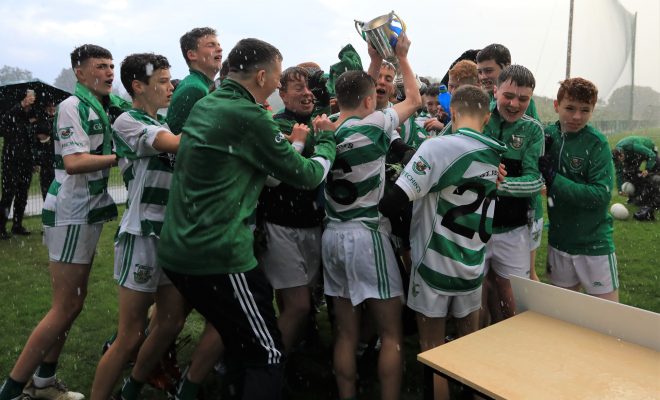 St Fechin's 1-10 Kilkerley Emmets/Naomh Malachi 1-7
St Fechin's should probably have collected the Liam Cosgrove Cup in a much more comprehensive fashion on Saturday afternoon, but, ultimately, were left in debt to goalkeeper Adam McCabe for an excellent late save in preventing the B Championship final from going to a replay.
The Beaulieu boys hit nine second half wides in leaving the door ajar for Kilkerley Emmets/Naomh Malachi to summon a late fightback that almost yielded a goal for Ryan Murtagh after a skilful run from deep.
Having been much more efficient in front of the target, Kilkerley/Malachi's were well in this contest until midway through the second half when an unanswered five-point burst helped the Hoops into a subsequently unassailable advantage.
The goalkeeping of Robert Conlon and defending of Kian Lennon were also crucial to the combination remaining in contention until the closing whistle.
Fechin's, with Cillian Duff and Michael McGlew serving as tremendous outlets for the outfielders in possession, began very strongly into the gust, Tiernan Burton pointing either side of Ciarán Hickey's goal.
However, Kilkerley/Malachi's provided an emphatic response with a 1-4 sequence coming without reply. Luke Shevlin struck three frees successfully, while Tadhg Fitzgerald found the net and advancing Murtagh raised a white flag.
The sides went for tea on terms, though, as Duff and McGlew arrowed efforts over the 'bar. Their midfield had, by now, got on top and with Isaac Smith a relentless runner from the half-back line, Fechin's looked likely to prevail.
That was until they began shooting off target at will, whereas Kilkerley/Malachi's made maximum use of their limited territory – Ryan Holland and Fitzgerald twice handing the north-Louth boys a slender cushion.
There followed Fechins' power play as McGlew (2), Hickey, substitute Seán McAleer and Smith got on the scoresheet, with Alex Babington ending the Kilkerley/Malachi's wait on a register in stoppage time.
That left just a 'score' in it and as Murtagh's meander in possession developed, there was a sense that the combination may yet salvage a draw from a seemingly doomed position. But Fechin's scrambled back and forced the No7 to shoot off his weaker left foot, which allowed McCabe to get his hands firmly in order to paw the ball to safety.
Deserving winners, Fechin's typically made hard work of this.
ST FECHIN'S: Adam McCabe; Tom Meegan, Comhal Ferriter, Dillon Nichol; Evan Clarke, Isaac Smith 0-1, Liam Reilly; Ciarán Hickey 1-1, Harry Dowd; Tiernan Burton 0-2, Cathal Mulholland, Johnny Ryan; Andrew McCarthy, Michael McGlew 0-4 (2f), Cillian Duff 0-1. Subs: Matthew Horgan, Ryan Garvey, Ben Marron, Seán McAleer 0-1.
KILKERLEY/MALACHI'S: Robert Conlon; James Cawley, Conal Cunningham, Jack O'Connor; Kian Lennon, Cillian Clarke, Ryan Murtagh 0-1; Cian McElroy, Luke Shevlin 0-3 (3f); Finnán Crawley, Tadhg Fitzgerald 1-1, Ryan Holland 0-1; Jack Cotter, Alex Babington 0-1, Fionn McArdle. Subs: Ollie Conroy, Adrian Conlon, Oisín McElroy.
REFEREE: Stephen Johnson (Glen Emts).
Photo Credit: Louth GAA
tkcarr12@gmail.com