Wee County Win Big With Double House Draw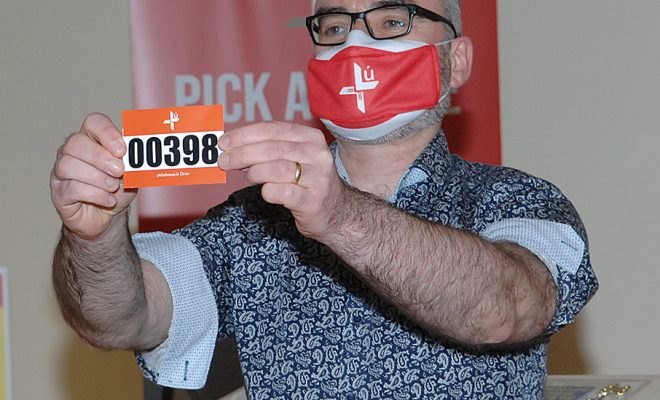 Easter Sunday, April 4th, 2021 will not go down in the annals of history in Louth GAA folklore for activities on the field of play, but without question it has captured the hearts and minds of all, for the Wee County has changed the lives of two new homeowners. On the back of the successful planning permission for a new stadium on the Inner Relief Road in Dundalk, a hugely ambitious fundraising campaign needed to be undertaken. It was September 2019, when Thomas Clare presented 'a hair-brained idea' to put not one, but two houses up for grabs in an effort to raise some monies. Following his pitch, many were left bemused. Truth be told, many still are. Yet, the idea incubated in the Imperial Hotel on that faithful night grew and before too long, a small committee was formed.
Launched on November 8th, 2019, the Wee County Double House Draw, went under the moniker of 'Pickahouse', where the winners could take their pick of two houses, one in Beaulieu Village, Drogheda and the other in Sea View Way in Dundalk. "Five months, and we'll be done and dusted", were the infamous words of Danny Culligan. Danny didn't have the foresight of what was going on 9,021km away in Wuhan. Mind you, none of us did. Early bird campaigns were followed by Christmas bonus draws. The sod turning on the stadium site garnered media attention. Love was in the air for Valentines with 14 free tickets up for grabs and just as the March Madness initiative of a €5000 giveaway was building momentum, the campaign felt the full force of COVID-19, meaning it took a five-month hiatus.
Upon the restart in September, the lucky €5000 winner was Dennis Pena. Restrictions meant that more emphasis was placed on the online aspect of the campaign, and aided with the addition of Aoife Clare to the team, we began to regain a foothold in the market. 'Triskaidekaphobia' played its part, that is, the fear of Friday 13th (November), generating huge interest – the €5000 (5 x €1000 winners helped!). Black Friday, came and went with a €1000 cash prize. The 12k's of Christmas was a huge success, manifesting in €1000 winners over 12 days of the festive period. The addition of Clann McClean members, Damien and Éadaoin, brought renewed interest and skillsets in spreadsheet formulae and Instagram nous respectively. The €10k-10Week draw, which ran from mid-January to mid-March resulted in €1000 prizes each Sunday evening. David Brennan provided some thoughts on what Louth means to him, Joe Carroll crafted some lines, and Mícheál O Muirchearaigh added his oh-so-familiar voice to the promotional video. All-the-while, Francie McMullen and his team were validating each and every paper ticket sold throughout the campaign. Baby Eoin entered the fray in late February and though mother, Clodagh Culligan stepped away for a short time from her role as administrator, she couldn't be stopped, coming back into the fold to see the campaign down the home stretch.
In between, we've had daily phone calls; held weekly remote meetings; became accustomed to the intricacies of online payment mechanisms and Facebook's advertising policies; recorded videos at Louth GAA clubs, published graphics from each and every club and from all codes; created 512 media assets, had Santa Claus present cheques, had the dulcet tones of Aidan Berrill and Ronan Lynch on LMFM, welcomed RTÉ to our parts, had 600+ ticket sellers, while working with and around the pandemic. There have been many highs, some lows, stumbling blocks and challenges, but everything has been done with the good of Louth GAA at heart: 575 days, 49,348 emails; €34,000 in cash giveaways; Two Houses | Two Winners; One Pickahouse draw; One Stadium; €1.2m profit.
Colm Corrigan (LMFM) MC'ed the evening's proceedings. Adrian Cleary (Director of Nursing at the Louth Hospitals) pulled out the three winning tickets while Derek Carrie (Derek Carrie & Company Accountants) oversaw proceedings. In his address, County Board Chairperson, Peter Fitzpatrick TD, spoke of "seeing all our dreams come true"; he thanked all Louth GAA clubs, Croke Park, the County Council, the Government, all Louth Gaels, and all other sporting organisations who have supported the draw, and everyone who bought a ticket. County Board Treasurer, Aidan Berrill, spoke of the debt of gratitude that the County Board owes to all Louth GAA clubs for supporting the fundraising efforts; he thanked his fellow officers, the business community, and the media. He concluded by commending the promotional team for their work ethic, and offered good wishes to those whose lives will be forever changed with a win in the draw.
Heartiest congratulations to the winners: 1st Prize: Colin Hoey (Louth Village); 2nd Prize: Michael Mooney (Haggardstown), and 3rd Prize: Jason Finlay (Ardee).
Photo Credit Arthur Kinahan