Blackstone Motors steps up to sponsor Louth GAA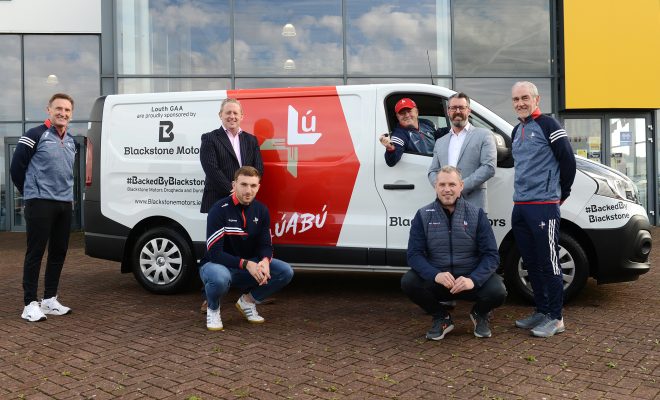 There is massive excitement in Louth as the county GAA football team has made some really positive improvements over the past few months. The addition of Mickey Harte as County Football Manager is recognised as a big coup in GAA circles and the style, flair and passion that Mickey brings to the teams he manages is starting to be seen by all supporters of the Wee County.
Along with playing fantastic football, Louth GAA announced the development of a state of the art new stadium in Dundalk and there is no doubt this will be the envy of every county when finished.
As main Renault Dealer for Louth and with a dealership in Drogheda and Dundalk, Blackstone Motors decided it was perfect timing to step up to sponsor Louth GAA with a brand new Renault Trafic van as the official kit van and an all new Renault Arkana as the official management car. The Renault Trafic kit van will be used to transport all GAA playing equipment to club and inter-county games along with training for kids and adults while the Renault Arkana will be used by the management team for all GAA activities.
Noel Stewart, Managing Director of Blackstone Motors commented "Over the past ten years we have supported local clubs in Dundalk and Drogheda with sponsorship and we are really excited to be partnering with Louth GAA. We have been surprised with the level of local support GAA receives in the county and for Blackstone Motors its our way of saying a big thank you to all of our customers and supporters who also follow GAA in the county"
This sponsorship coincides with Blackstone Motors also sponsoring Louth Ladies GAA as main sponsor. Donal Waters, Director of Blackstone Motors said " We are delighted to be sponsoring Louth GAA along with Louth Ladies GAA who we are main sponsor for the past few years. Hopefully like the Ladies the Lads we will get to a final in Croker soon "
Louth GAA is Backed By Blackstone.
#BackedByBlackstone #LúAbú #RenaultArkana #RenaultTrafic