Club games make a welcome return
After weeks of isolation and lockdown Louth GAA clubs finally opened their pitches for the completion of the two subsidiary leagues, The Sheelan Cup and The Mullen Shield, both of which had started earlier in the year. Bad weather had hampered the fixtures earlier in the year before a complete lockdown was put on all activities with the outbreak of Covid in mid March.
With strict rules in place for players, background teams and spectators the remaining quarter finals took place tonight. The home teams had the arduous task of keeping the capacity to 200, which included players, management teams and officials included in this number.
With league and championship not too far away, these games will undoubtedly be a great addition to the teams that played. Tonights results can be seen below.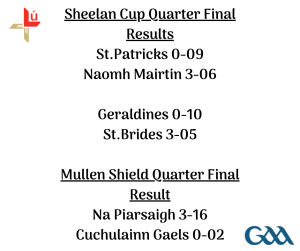 The next round of games, semi finals in both competitions will take place this weekend.
All fixtures and results can be found in the fixtures and results tab above.