Delight as 11 New Referees Qualify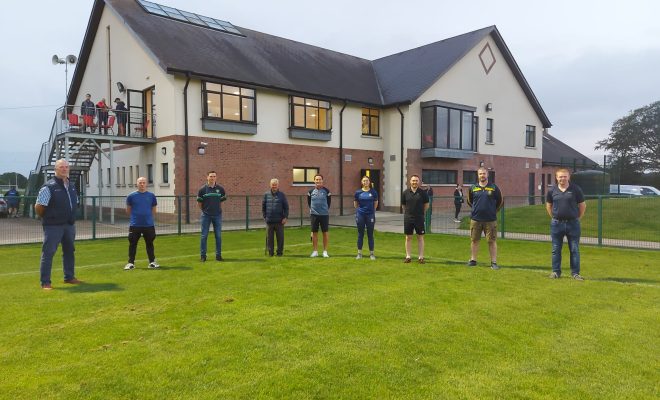 Louth GAA are delighted to announce that their most recent call for new referees has proved very succesful.
Louth GAA are delighted with the 11 new referees and look forward to having them start their new careers in representing their club and their county. This is the first time that so many new referees have qualified in a given year.
Chairman Peter Fitzpatrick presented each new referee with their kit bag,wallet and new gear. Present on the night was Denis McArdle (Referees Administrator), Malachy Craven (Referees Assessor) and John Kellegher (Referees Assessor).
The new referrees are Colin Maher (St.Marys), Fiachra Lambe (O'Raghallaighs), Emma Clinton (Wolfe Tones), Stephen Fitzpatrick (Clan na Gael), Cathal Sweeney (Stabannan Parnells), Damien Connor (St.Patricks), Bryan Smyth (O'Raghallaighs), Danny O'Connell (Westerns), Stephen Kermode (O'Raghallaighs), Alan Goring (St.Nicholas) and Shane Russell (Annaghminnon Rovers).
We wish them well.
Pictured above
L/R Denis McArdle (Referees Administrator), Colin Maher (St.Marys), Fiachra Lambe (O'Raghallaighs), Malachy Craven (Referees Assessor), Peter Fitzpatrick (Louth GAA Co.Board Chairman), Emma Clinton (Wolfe Tones), Stephen Fitzpatrick (Clan na Gael), Cathal Sweeney (Stabannon Parnells), Damien Connor (St Patricks)
Missing from picture Bryan Smith (O'Raghallaighs), Danny O'Connell (Westerns), Stephen Kermode (O'Raghaillaighs), Alan Goring (St Nicholas), Shane Russell (Annaghminnon Rovers)