GAA GREEN CLUBS AIM TO REDUCE SINGLE-USE PLASTIC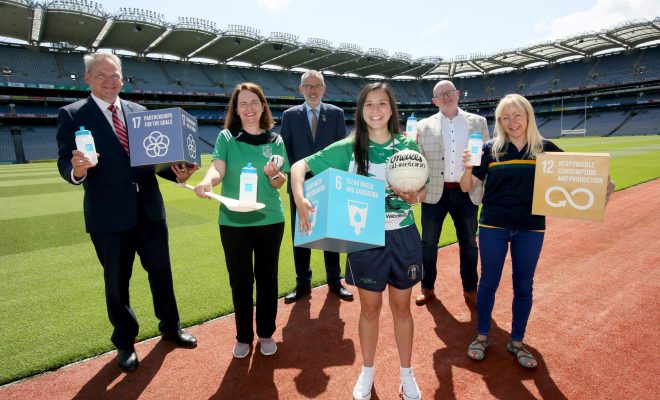 As part of its new Green Clubs programme, the GAA, in collaboration with the Regional Waste Management Authority and Irish Water, recently launched an initiative to eliminate single-use plastic bottles from Gaelic Games clubs and grounds.
St Patrick's GAA club in Limerick, Park/Ratheniska GAA club in Laois and Lucan Sarsfields GAA club in Dublin were joined by An Uachtarán CLG, Larry McCarthy, in Croke Park to launch the 'Puc Single-Use' initiative. The three clubs are amongst 45 clubs in Ireland taking part in the pilot Green Clubs programme and, along with Clarinbridge in Galway and Cappagh in Kildare, are members of the Waste group of the GAA Green Club programme. Waste is one of five thematic areas being explored by participating clubs, along with water, biodiversity, energy, and transport.
The first major project for the GAA Green Clubs in the Waste group is a campaign to eliminate single-use plastic. Green Club partners the Regional Waste Management Authorities have developed a 'Puc Single-Use' toolkit to support participating GAA Green Clubs in identifying and eliminating single-use plastic in their grounds and activities, starting with drinking water bottles. Nearly 50% of all plastic produced world-wide is single-use and Ireland is responsible for the highest rate of plastic production per person in the EU.
Irish Water has supplied the Green Clubs taking part with 1500 reusable water bottles and each club has nominated a number of teams to champion the initiative. Sammi Chang from St Patrick's in Limerick explained how the measures of the GAA's safe return-to-play policy had already encouraged teams in the club to look at their use of disposable water bottles. "Because of the Covid risks, some of the adult teams in the club had begun to look towards individual reusable bottles. Having the Green Club toolkit as guidance, we can now develop this as a policy across the club so that this measure won't be just for one summer or one year – this is a commitment that St. Patrick's are proud to champion for the years to come."
Laois club Park/Ratheniska were represented at the launch by Green Team member Eileen Dunne, who is also the club's Healthy Club Officer. This club's plastic elimination programme, which is being championed by the club's juvenile section, received a significant boost recently when the club's adult football team also decided to go plastic free.
Lucan Sarsfield's Jo Mahon is not only a Green Team member but is also club secretary and a member of the Healthy Club team, "It makes perfect sense for Lucan Sarsfields to be involved as a Green Club – the values and aims of the Green Club programme reflect who we are as a club and community and complement a huge amount of what we do already through the GAA Healthy Club Project."
The three Waste Management Planning Regions were represented by Regional Co-Ordinator Hugh Coughlan who said "The three Regions are delighted to be supporting this initiative by the GAA to reduce single-use plastics, which is very much in line with the ambitions of National and Regional Waste Policy. The GAA's commitment to developing more sustainable clubs through its Green Clubs initiative has significant potential not just for the clubs but indeed for the wider community given the GAA's unique presence in Irish society"
Irish Water was represented by Managing Director Niall Gleeson, who said: "Delivering Ireland's water services in a sustainable and socially responsible way is a key priority for Irish Water. Like the GAA we operate in almost every town and village in the country, safeguarding our precious water supplies and returning treated wastewater safely to the environment. We are delighted to support this great initiative by providing clean drinking water in reusable bottles which will help tackle the growing problem of plastic waste and protect the environment."
More information on the GAA's Green Club programme is available at www.gaa.ie/greenclub and greenclubs@gaa.ie