How to use LúTV: Step by Step Instructions

LúTv will be streaming its first game Sunday 2nd August at 3pm.
We are delighted to be streaming live from Clan na Gael Park in Dundalk with the opening round fixture of Division 2A between Clan na Gael and Kilkerley Emmets .
We have step by step instructions on how to get set up to stream this game and once your account is set up it will be there for future streaming.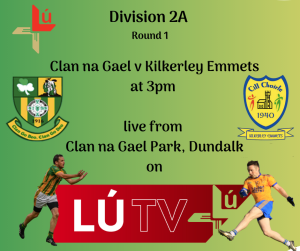 STEP BY STEP INSTRUCTIONS
Step 1.
Go to www.louthgaa.ie
Step 2.
Click LúTv at top right of screen
Step 3.
Click login/register at top of screen
Step 4.
Fill in user registration
Step 5.
Login with username and password
Step 6.
Click webcast in top left corner.
Step 7.
Scroll down find game
Louth-Clan na Gael v Kilkerley Emmets and click buy now
Step 8.
Click PayPal
If you have a PayPal account you can use it or if you want to use debit card or credit card click it.
Step 9.
Put in your card and billing details
Step 10.
You will be redirected to stream and enjoy.