Leinster SFC: Louth stage dramatic comeback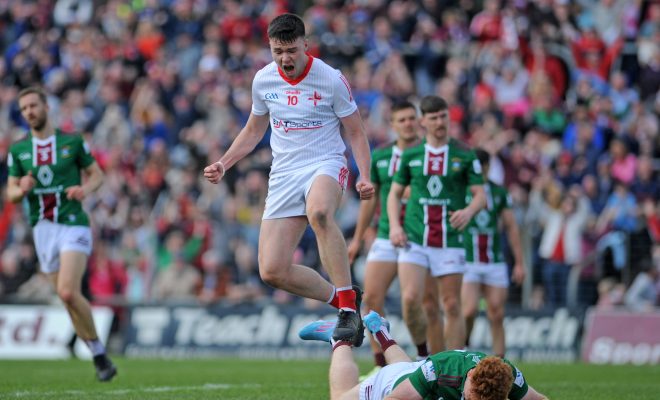 pLeinster Senior Football Championship Quarter-Final
Louth 2-10 Westmeath 1-11
By Paul Keane at Páirc Tailteann
Allianz League form ultimately proved a reliable indicator for how this Leinster SFC encounter would pan out though it still took a mighty comeback from gutsy Louth to secure a dramatic quarter-final win.
Mickey Harte's side, who pushed hard for promotion from Division 2, found themselves on the cusp of disaster when they trailed by eight points at half-time.
But a thrilling second-half revival, made possible by goals from captain and top scorer Sam Mulroy, as well as substitute Liam Jackson, secured victory for Louth and a first Leinster semi-final place in 13 years.
The 2010 provincial finalists will play Meath or Offaly at Croke Park next Sunday and will fancy their chances as they continue to build and develop under Tyrone icon Harte.
Mulroy finished with 1-4 for Louth while Conor Grimes was also terrific and midfielders Conor Early and Tommy Durnin came roaring into the contest in the second-half too as they outscored Westmeath by 2-6 to 0-2 in that period.
All is not lost for Dessie Dolan's Westmeath who are still through to the new All-Ireland series group stage as a result of last year's Tailteann Cup success.
Failing to secure promotion from Division 3 in the National League was presumably a disappointment for Dolan's side but, initially at least, it didn't appear to bother them as they surged into that big lead against the Division 2 side.
The Wee County set up in a typical counter attacking formation with Mulroy regularly their only player in the opposition half, with full-back Kevin Maguire on his shoulder.
Louth sought to hurt Westmeath on the break and they did carve out a couple of goal chances but Mulroy was twice thwarted in the 11th and 28th minutes by goalkeeper Jason Daly.
At the other end, Louth goalkeeper James Califf had plenty of success with getting his kick-outs away but his colleagues further out the field consistently failed to build on that possession with Westmeath dominant at the back.
At times, the Westmeath supporters groaned as they watched their own forwards run into the Louth defensive screen, forcing them to recycle possession back and forth across the pitch.
But it was only delaying the inevitable and John Heslin's 19th minute point, when he booted over from around 35 metres out after what seemed like endless hand-passing between Westmeath players, summed up their patience and how they went about their business.
That score moved Westmeath 0-4 to 0-1 clear and ex-AFL player Ray Connellan pushed them further ahead with a terrific point from distance two minutes later.
Louth lacked any sort of punch going in the opposite direction and found themselves facing waves of Westmeath pressure which resulted in points for Senan Baker, Luke Loughlin and Heslin.
The latter score from Heslin, a converted free in the 35th minute, came following a fantastic fetch in the middle of the field by Sam Duncan from a Daly kick-out which set the midlanders on the attack.
That put Westmeath into a 0-9 to 0-4 lead and they were boosted in the moments just before half-time by Ronan O'Toole's goal when he cut through the centre of the Louth defence thanks to a neat one-two with Ronan Wallace and calmly slotted low to the bottom left corner.
Whatever Harte said at half-time clearly did the trick because they were a different team in the second-half, full of energy and attacking threat.
Westmeath suddenly found themselves pinned back in their own half and only registered two second-half points in total, from O'Toole and free-taker Heslin.
Louth picked off the points in the third quarter from Mulroy, the excellent Grimes and Donal McKenny before Ryan Burns was fouled for a penalty that Mulroy carefully dispatched.
If left just three between them and Louth wiped out the deficit entirely when Jackson was fed by Mulroy and slammed in the equalising goal in the 55th minute.
The sides were level again 2-08 to 1-11 but late Louth points from Early and Mulroy did the trick.
Scorers for Louth: Sam Mulroy 1-4 (1-0pen, 0-4f), Liam Jackson 1-0, Conor Grimes 0-2, Conor Early 0-2, Niall Sharkey 0-1, Donal McKenny 0-1.
Scorers for Westmeath: Ronan O'Toole 1-1, Luke Loughlin 0-3 (0-1 45), John Heslin 0-3 (0-2f), Senan Baker 0-2, Ray Connellan 0-1, Stephen Smith 0-1.
Louth: James Califf; Dan Corcoran, Peter Lynch, Donal McKenny; Ciaran Murphy, Niall Sharkey, Leonard Grey; Tommy Durnin, Conor Early; Conall McKeever, Ciaran Downey, Conor Grimes; Daire McConnon, Sam Mulroy, Ryan Burns.
Subs: Liam Jackson for McConnon h/t, Craig Lennon for Murphy h/t, Paul Matthews for Burns 51, Anthony Williams for Lynch 61, Conall McCaul for McKeever 69, Oisin McGuinness for Grimes 73, blood.
Westmeath: Jason Daly; David Giles, Kevin Maguire, Jack Smith; David Lynch, Ronan Wallace, Jamie Gonoud; Sam Duncan, Jonathan Lynam; Ray Connellan, Ronan O'Toole, Senan Baker; Luke Loughlin, John Heslin, Stephen Smith.
Subs: Conor McCormack for Smith 51, James Dolan for Gonoud 61, Darragh Seery for Wallace 64, Lorcan Dolan for Duncan 66.
Referee: James Molloy (Galway).
Highlights of todays game with commentary from LMFMs Colm Corrigan and Darren Clarke.
Video: Shane Cunningham (Cunningham Video)
Mickey Harte speaks to LMFMs Colm Corrigan after the game.
Photo Credit: Ciaran Culligan (Louth GAA)