U16 League/Championship Round 2 Match Reports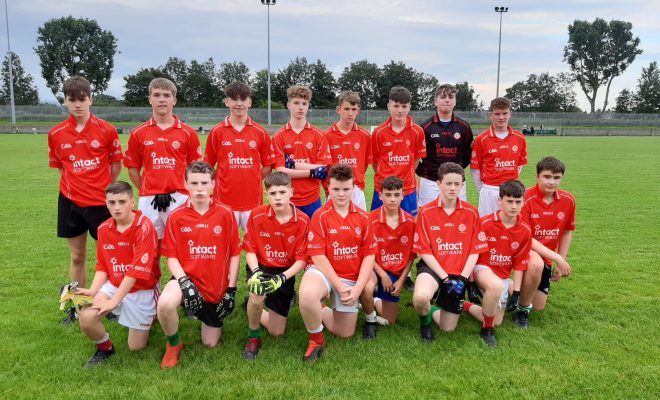 U16 Boys Division 1 Group A
St.Michaels 2-14 v Cooley/Cuchulainn Gaels 6-07
As the old saying goes "goals win matches" and this was so true about this u16 match between Cooley/Cuchulainn Gaels and St.Michaels.
Early on Cooley Kickhams/Cuchulainn Gaels raced in to a 0-00 to 2-01 lead and things looked ominous for the St Michaels team at this stage.
St Michaels management made a few switches and brought Sean Reynolds out to midfield, from full-forward, and this change paid dividends as they clawed their way back in to contention with Reynolds driving hard from midfield and winning a lot of ball. Reynolds drew a lot of frees and Andrew Wogan was very impressive in slotting these over, finishing the match with an impressive haul of ten points. St Michaels were aided in the second part of the first half with a Cooley black card, reducing the peninsula side to fourteen for ten minutes. The sides went in at half time with the minimum between them at 2-04 to 3-02.
In what seemed like deja vu at the start of the second half, Cooley Kickhams/Cuchulainn Gaels fired in another two quick goals, mirroring what they had done at the start of the first half. At this stage Cooley/Cuchulainn Gaels were being driven on by their centre-half forward Gerard Hanlon who was very prominent during this phase of the game. O'Hanlon produced some clinical passes inside, where corner-forward James Sharkey in particular was able to turn in to scores. Ultimately this burst by the North Louth team proved to be enough and their Mid Louth foes were never able to make up the deficit as hard and all as they tried.
The Stabannon Parnells and O'Connells clubs would like to thank White River Group for their generous sponsorship of the new jerseys worn in tonight's match.
St.Michaels: Cillian Byrne, TJ Conlon, Jack McGeough, Emmett Carroll, Evan Kearney, Daniel Clinton, Oisin McKenna, Jamie Durnin, Calum Woods 1-0, Alan Reynolds, Jake Corrigan, Adam Flynn, Andrew Wogan 0-11, Sean Reynolds 1-03, Nathan Carragher
Subs: Justin Cooney, Joe McGee 0-1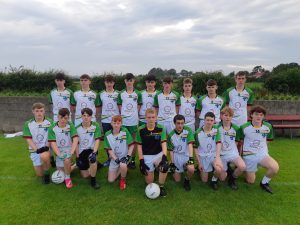 Cooley Kickhams/ Cuchulainn Gaels: Thomas Fearon, Sean Brennan, Sean Mc Carragher, Euan Mc Ardle, Sean Quinn, Sean Hoey, Conail Donnelly, Daire Mc Daid, Eddie Kirwan, Brian Boyle 1-0, Gerard Hanlon 2-02, Shane Rogan, James Sharkey 1-04, Jamie Molloy 1-01, Kyle Murphy 1-0 Subs David Mc Quaid, Petie Hanlon, Stephen Mc Mullin, Eamon Donnelly, Cian Mc Guinness, Luke Sheridan, Shane Murphy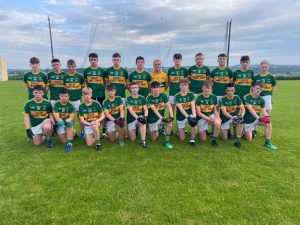 St.Patricks: 1-07 v St.Fechins 2-18
St Fechins picked up their first win of the u16 championship with an impressive away win v St Patrick's. Fechins raced out of the blocks and were leading 1-5 to 0-2 after 15 minutes with the goal coming from Sean O'Driscoll. However the Pats fought back with a goal of their own to reduce the gap but some fantastic long range points from Aaron McGlew and Mahon Ronan helped give the Fechins a 6 point lead at half time.
The second half started similar to the first with St Fechins tagging on early scores to help stretch the lead with some more excellent points from Cillian McCormack, Sean Keane and McGlew. Final score St Patrick's 1-7 ; St Fechins 2-18. This was an excellent all round team performance which sets them up now for a crunch game v Cooley Kickhams next week.
Team: Kyle Meegan, Paddy Keane, Rueben O'Neill, Luke Matthews, Liam Purcell, Robert McCarthy, James McGlew, Shane Reilly, Aaron McGlew, Mahon Ronan, Cillian McCormack, Sean O'Driscoll, Sean Keane, Caelum Dolan, Calum McNamara. Ben McCabe, Evan Dolan, Matthew Fitzpatrick, Hugo Johnston, Morgan O'Reilly, Ben Bohill, Tadhg Gallagher, Rian Kindlon.
U16 Boys Division 2 Group A
Roche 1-08 v Dundalk Gaels 0-8
Roche U16s edged a very tense match against their Gaels counterparts in Pairc de Roiste on Monday evening. Both sides were evenly matched and scores were hard to come by with the sides locked at 0:03 each at half time. The match was right in the melting pot until DD Reilly popped up with minutes to go for Roche with the vital goal which ultimately separated the sides.
Best for Roche were Andrew McKay, Danny Treacy and Ryan Martin.
Roche Emmets: James Loughran, Gavin McArdle, Danny Treacy, Conor Callan, Luca Craig Haye, Ryan Martin, Taylor Ward, Sean Connolly (0-2), Matthew McArdle, Andrew McKay (0-2), Luke O Connell, John Hodgers (0-01), James Corcoran, Eoin Maguire, DD Reilly (1-03).
U16 Boys Division 2 Group B
St Nicholas/Wolfe Tones 2-11 v St Josephs 5-14
St Nicholas/Wolfe Tones were hosts to St Josephs in Pentony Park in this Round 2 fixture. St Josephs opened the scoring within a couple of minutes with adding 1-01 in this period. St Nicholas/Wolfe Tones responded quickly with the next two scores, a well taken free from Liam Gaffney, and a particularly good score from Shane Kelly following some great support play between himself and Cebhan Housiedari. St Josephs added another goal and a point to their tally, before Eoin Wynne added two points for the Drogheda lads, one from play and one from a free. St Josephs would add another 2-2 before St Nicholas/Wolfe Tones pulled back two more points with frees from Eoin Wynne, to leave the score 0-5 to 4-4 at half time in favour of the visitors.
St Nicolas / Wolfe Tones started the 2nd half strong with an early point. Both teams then exchanged a few scores, with the Nics/Tones lads starting to eat into the St Josephs lead during a strong period where they notched up some fine scores. Some quick thinking by sub Caileann Gallagher Floody landed a goal from a free, followed by two more pointed frees from Eoin Wynne. Despite being reduced to 14 players due to an injury St Josephs responded well and finished the game strong with a couple of goals to stretch their lead, finishing up winners on a score- line of 5-14 to 2-11.
St.Nicholas/Wolfe Tones: Rhys McGover, Eoin Shortt, Darragh Browne, Gabriel Karkle, Shane Kelly (0-1), Ethan Kelly, Josh Marrey, Cebhan Houshiedari (1-0), Liam Gaffney (0-4 2F), Scott McGrath, Hayden Quinn, Ali Maqsood, Eoin Wynne (0-5 4F), Aaron O'Donoghue (0-1), Cathal Geraghty
Subs: Caileann Gallagher Floody (1-0) For Ali Maqsood, Adam Everitt, Aaron Gallagher, Sean Molloy, Abdullah Maqsood.
Clan na nGael 3-7 v St Mochtas/St Brides/Dundalk Young Irelands 1-17
Clans started this game strong with a dominant first half performance where they went in at half time leading 2-04 v 0-5.
The combinaton side however came out strong in the 2nd half aided by a strong midfield performance from Evan Wynne and Jack McArdle who scored 2-13 between them in the match. JP Byrne impressed up front also for the combination side with Lee O'Donogue and Dillon Cronin impressing in defence.
The combination side ran out 1-17 v 3-07 winners in the end.
St.Mochtas/St.Brides/Dundalk Young Irelands: Sean Brennan, Lee O'Donoghue, Jake Mason, Odhran Cassidy, Adam Smart, Dillon Cronin, James Kavanagh, Evan Wynne 0-6, Jack McArdle 2-07, Sean Hoey 0-1, Shane Lennon 0-1, Morgan Tobin, Shane Keane, JP Byrne 0-2, Evan McArdle, Donal McArdle