Ardee St.Marys and Baile Talún Claim u15 League Titles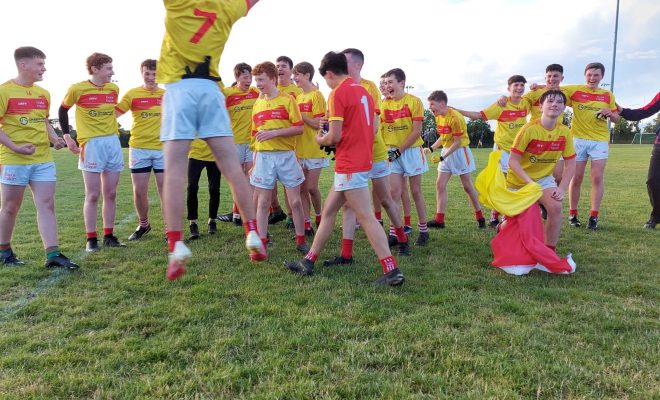 U15 Division 2 Final 2021
9/08/21
by Mark Byrne (Louth GAA PRO) from Darver
Baile Talun 2-11
St.Patricks 2-09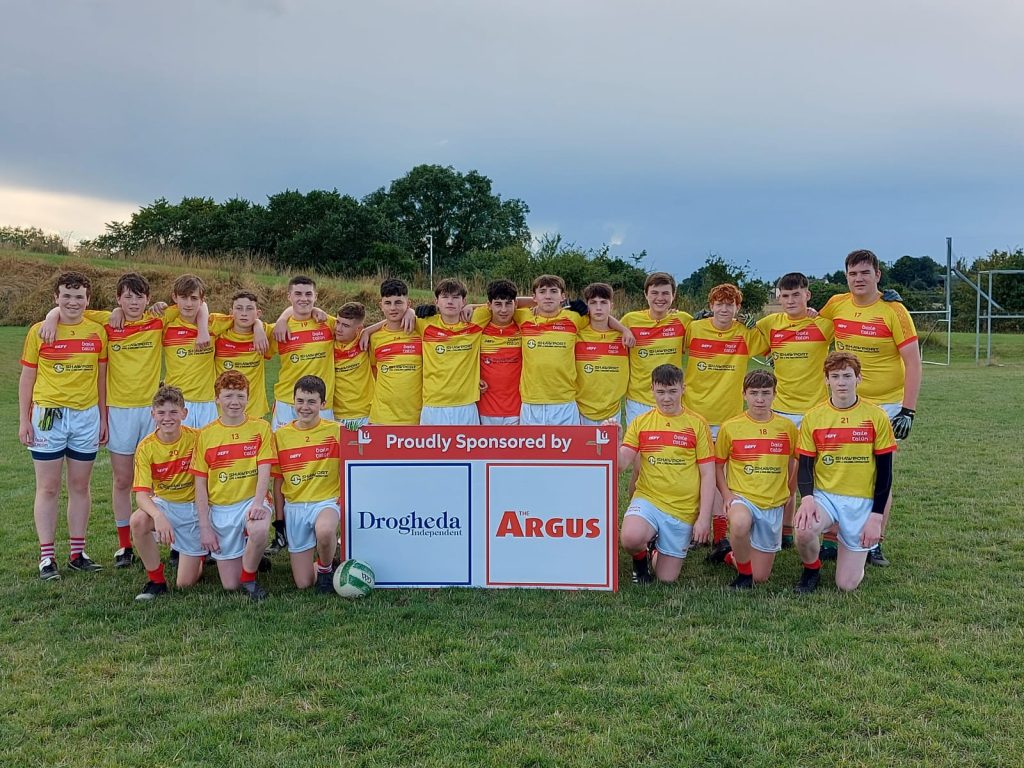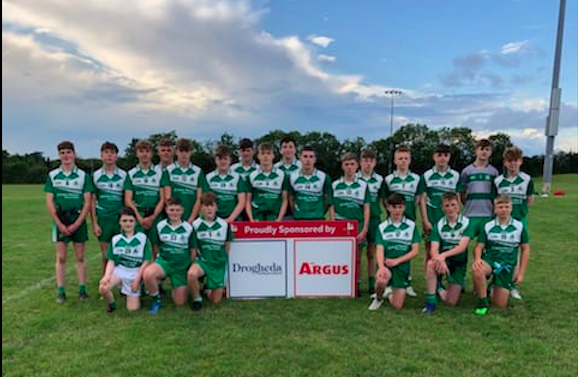 Baile Talun claimed the U15 Division 2 League title for 2021 after a stunning comeback left the Pats shellshocked.
After a very slow start to the game in Darver, both sides were level at the first half water break at 1 point a piece. Following this, the Pats took complete control of the half and points from Josh Condon and Daniel O Shaughnessy saw them sail into a five point lead. Then the impressive O'Shaughnessy fired to the net on 27 minutes followed by a Sean Holland point which gave the lads from Lordship a 1-08 to 0-02 point lead at the break.
This period of dominance was the last period of dominance the Lordship lads would prove to have. The Baile Talun combination team, consisting of players from the Westerns, Sean McDermotts and Glyde Rangers fought their way back into game straight after the restart.
A goal from corner forward Jack Martin brought the red and yellows right back into the tie and from here their confidence grew and grew. The Pats did to their credit respond with a goal from full forward O'Shaughnessy but at this point Baile Talun were in complete control around the middle of the field and had got to grips with the Pats first half danger men.
Baile Talun scored their second goal after 18mins of the second half from full forward Cormac Lundon. The Pats followed this up with their second score of the half which in the end proved to be their last from mid-fielder Dara Flynn. The Baile Talun combination kept reeling the Pats back in and outscored their opponents 2-09 to 1-01 in the second half.
Frustration did get the better of the Lordship lads with 3 players being dismissed as tempers began to flare a little.
A thrilling game played between two very even teams finished with Baile Talun sub Oisin Drumgoole scoring the last two points and with numerical and score advantage the Baile Talun team seen the game out, winning by 2 points.
Teams:
St.Patricks: Conor McVeigh, Pearse Mulrey, Ross Hynes, James Byrne, Sean Holland (0-01), Niall Donohue, Caelan Murphy, Dara Flynn, Ruairi Traynor, Josh McGinn, Michael O Shaughnessy, Ben Duffy (0-01), Josh Condon (0-04), Daniel O Shaughnessy (2-02), Cian McKenna (0-01)
Subs: Ciaran O Hanlon, Fionn Holmes, Luke Ryan, Tiernn Hynes, JP McKeown, Eoin McCoy, Simon Cranny
Baile Talún: Senan Lundon, Shane Byrne, Donnacha McCourt, Tomas Devlin, Olan Crosbie. Mark McKeever, Callum Watters, Cathal Kennedy (0-05), Daragh Osbourne, Tom Maguire, Tadhg Devanney, Oisin Reenan, Daniel Commins, Cormac Lundon (0-03), Jack Martin (1-00).
Subs: Tomas O'Brien, Jamie Callaghan, Kyle Caffrey, Matthew Little (0-01) Oisin Drumgoole (0-02), Joe Murray, Corey Farrell
Referee:Gerard Corrigan
U15 Division 1 Final 2021
10/08/21
by Susan McShane (Louth GAA Minor Coiste na nOg PRO) from Darver
Newtown Blue 1-14
Ardee St.Marys 3-09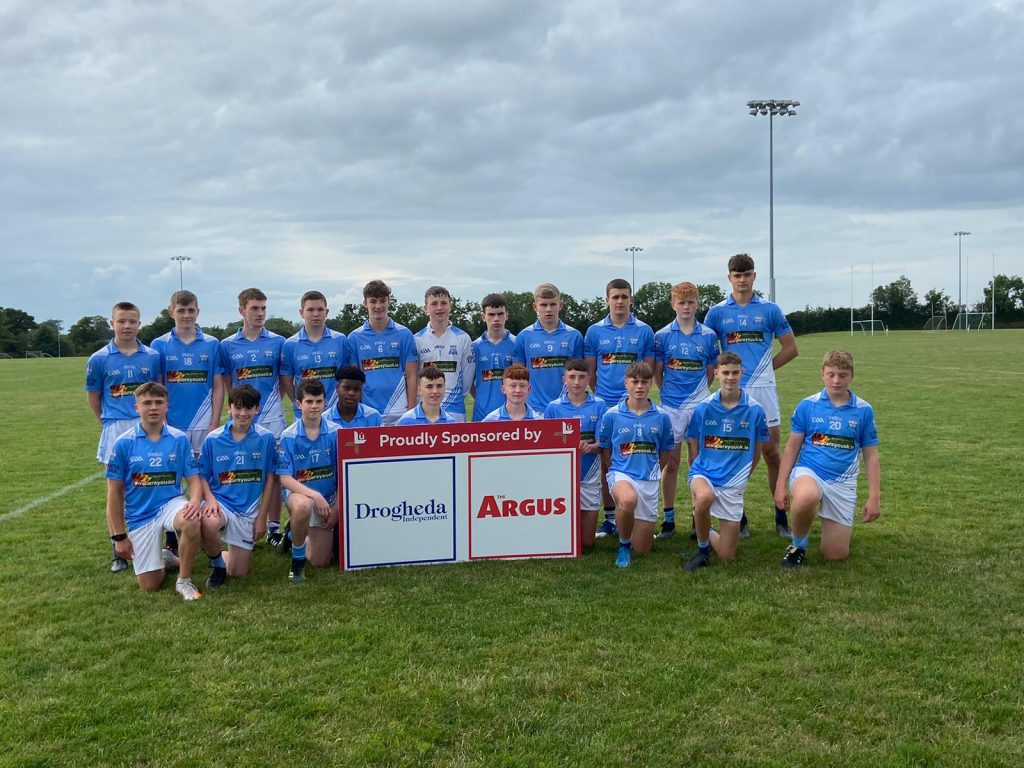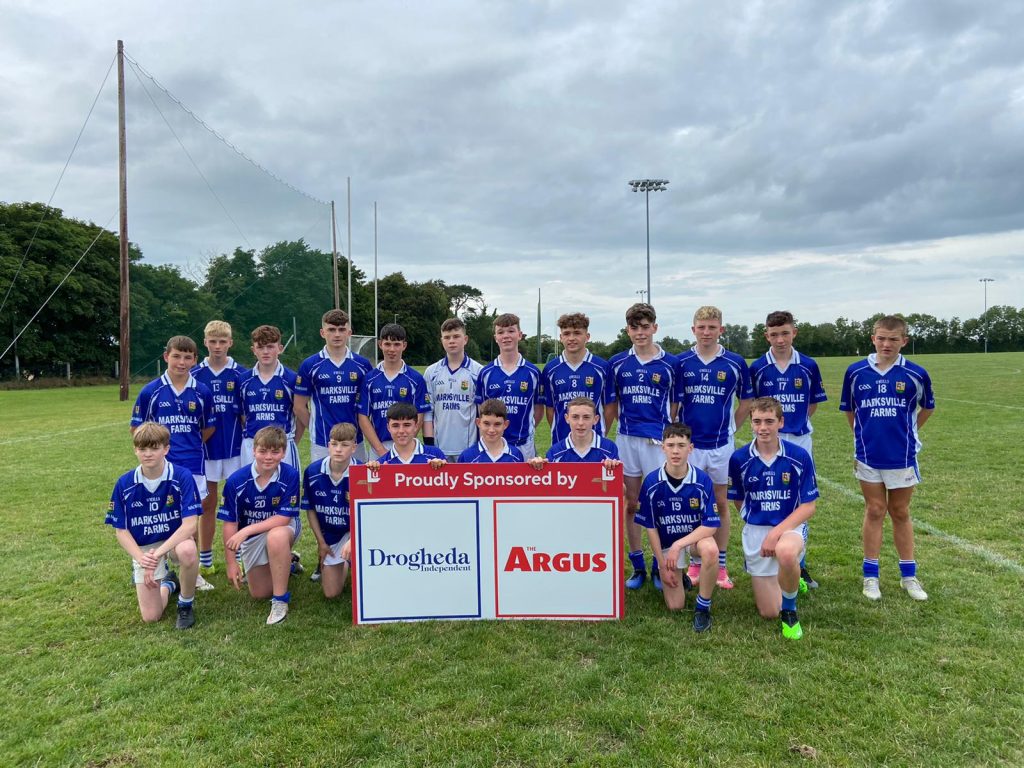 Ardee St.Mary's came out on top in what was an entertaining final between 2 very competitive sides with a last minute free kick securing the win against Newtown Blues.
Newtown Blues opened the scoring with a free from Conor MacCriosta, however in what was a fast paced opening period both sides struggled to add to their tally, the Newtown Blues keeper Dan McGriffin also made a great double save to deny St.Marys their opening score. It was the 10th minute before St.Marys got their opening score through a free from Adam Gillespie.
St.Marys keeper Tiernan Markey denied Newtown Blues with a brilliant save before both sides added 2 points each with the sides remaining level after 20 minutes of play. Newtown Blues had more of the chances in the first half however put these wide of the post before Flynn Richardson made no mistake in putting the ball into the back of the net.
Adam Gilespie had a brilliant match in midfield for St.Marys and from a kick out he won possession in the middle of the field before powering his way through the forward line and blasting the ball into the back of the net to bring the sides level once again.
Both side exchanged points with Newtown Blues once again going back in front with a point from Jack Healy, however St.Marys were awarded a penalty and Adam Gillespie converted to put them ahead for the first time in the half.
Newtown Blues, however added points before half time to bring the sides level – 1-07 v 2-04.
Newtown Blues came out strong in the opening period of the 2nd half scoring 3 points in 3 minutes, the Blues were reduced to 14 men briefly with a black card and Cian Lane responded with a goal for St.Marys to once again level the match.
The Blues once again went back in front with 2 quick fire points and Tiernan Markey was called upon again to deny Newtown Blues a 2nd goal and keep his side in the game.
Adam Gillespie reduced the gap to 1, going into the final 10 minutes, the Blues had extended their lead to 3 but once again St.Marys responded with 3 unanswered points and it looked like we were heading for extra time.
St.Marys however were awarded a free deep in injury time and Lorcan Buckley converted with Paul Finnegan blowing up for full time straight after to give St.Marys a 1 point victory.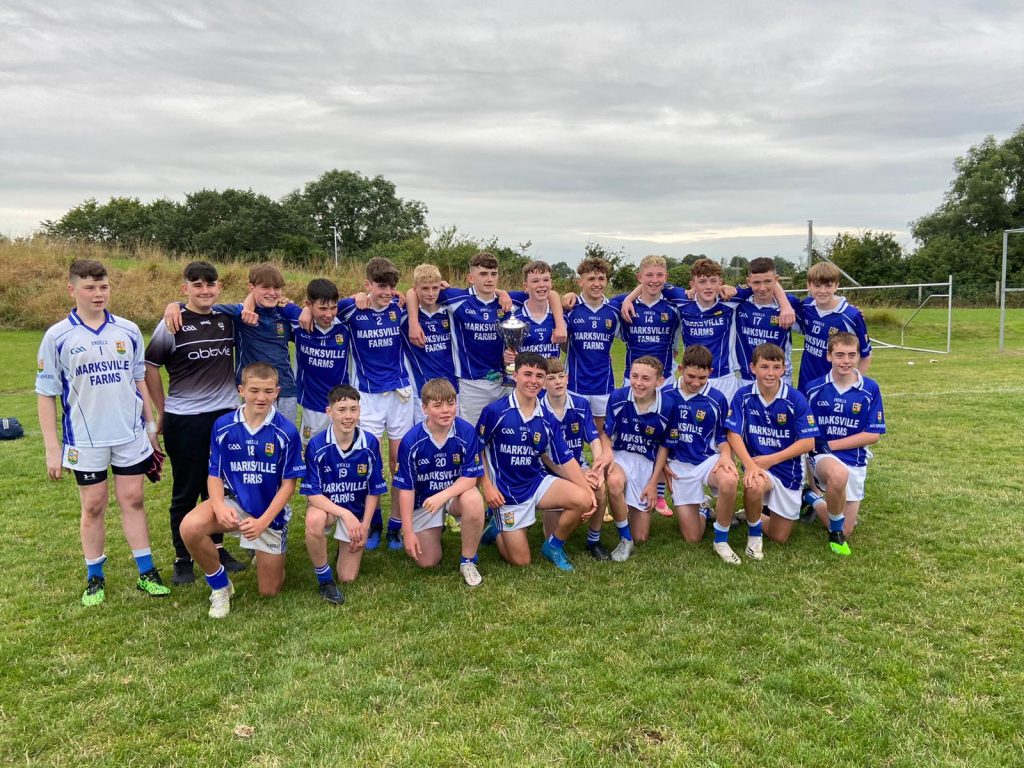 Ardee St.Marys: Tiernan Markey, Oran Carrie, Keelan Martin, Shane McMahon, Tadhg Caffery, Andy Murphy, Fionn Coyle, Adam Gillespie 2-04, Lorcan Buckley 0-2, Luke Keenan, Josh Taaffe 0-1, Darragh Murphy, Patrick Svender, Brooklyn Gorman 0-1, Cian Lane 1-01.
Subs: Bobby Carroll, Cian Rooney, DJ Matthews, Tadhg Rooney, Luke Woods
Newtown Blues: Dan McGriffin, Daniel McArdle, Fionn Nugent 0-1, Conor Browne, Eoin Branigan, Paul Galvin, Adam Leech, Jack Healy 0-3, Liam Branigan, Paddy Rice 0-2, Conor MacCriosta 0-1, Eoin McCoy, Ryan Nugent 0-4, Kuba Malacky, Flynn Richardson 1-02
Subs: Cillain Crowe, Scim Clarke, Obianna Nkiaa, Sean Carr, Joey Nally, Marcus Kalnina
Referee: Paul Finnegan
Competition Sponsors: